CM Fadnavis' helicopter force-lands in Nashik, was overloaded with extra passengers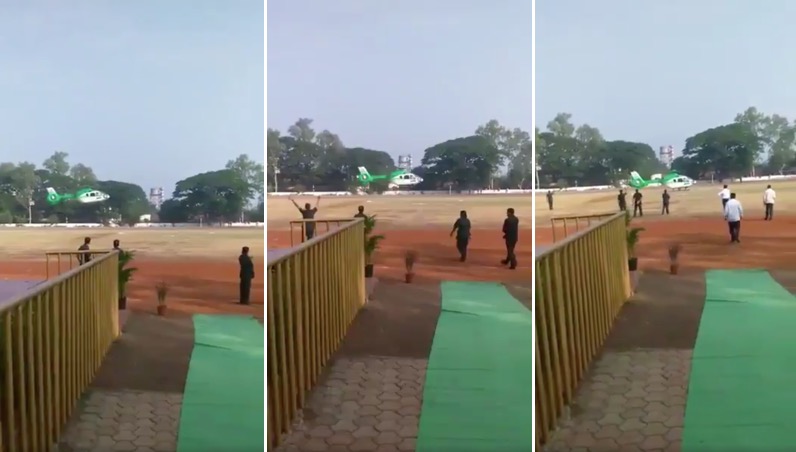 A helicopter carrying Maharashtra Chief Minister Devendra Fadnavis force-landed in Nashik on Saturday morning as it was carrying extra weight.
The CM had gone to Nashik to attend a host of programmes there on Friday.
The incident occurred at around 9.30 am, when Fadnavis, accompanied by Water Resources Minister Girish Mahajan and others were travelling to Aurangabad from Nashik, the Minister's aide, Santosh Bari said.
"As it took off from an open ground, the helicopter could barely ascend 50 feet or so and couldn't fly further, compelling the pilot to land a few metres away," Bari told IANS.
The chopper had apparently become overloaded and could not fly with the extra weight, so Fadnavis' cook and his bags were off-loaded before it took off normally after some time, he said.
Fadnavis and his entourage reached Aurangabad after the 25-minute flight, while the cook and bags followed by road, a journey of nearly three hours, according to Bari.
The incident alarmed the security and civil officials since there have been at least three other incidents – in Gadchiroli, Alibaug, and Latur – involving Fadnavis' VVIP aircraft in the past couple of years.
The CM had survived a major scare in May when a helicopter carrying him crash-landed in Latur. The helicopter, with six persons on board, got entangled in overhead wires while landing at Nilanga area where Fadnavis had held a programme
The state, incidentally, does not own any helicopters and contracts rental agencies to fly its VVIPs.
Excess weight forces CM @Dev_Fadnavis chopper to abort take off and offload a pax at Nashik pic.twitter.com/7jk8BYbIsR

— dharmesh thakkar (@news_houndz) December 9, 2017