Delisle bridge-Lower Parel ROB to be closed, dismantled from Tuesday amid safety concerns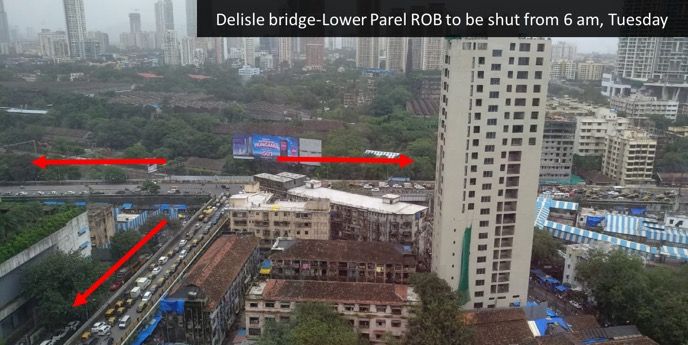 Following a structural audit, authorities have decided to shut Delisle bridge-Parel ROB (Lower Parel railway bridge) from Tuesday morning amid safety concerns.
The bridge will be closed for vehicles and pedestrians indefinitely from 6 am tomorrow, July 24.
The British-era bridge was audited last week by a joint team from Brihanmumbai Municipal Corporation (BMC), Western Railway (WR) and Indian Institutes of Technology (IIT-B).
The team, which has been tasked with the job of auditing bridges on the Mumbai suburban railway network following the Gokhale bridge collapse, found the bridge to be severely corroded, following which it was decided to shut and dismantle the bridge.
"In view of safety, it is recommended that the bridge be closed and dismantled as soon as possible," IIT-B team noted after the inspection.
According to Professor Pradipta Banerjee of IIT-B, the bridge could carry light traffic. However, the possibility of heavy vehicles using the bridge in the absence of traffic police led them to call for a complete closure.
The bridge can be accessed from three points – Shingte Master Chowk, Urmi Estate, and Lower Parel Railway Workshop building – and is used by thousands of motorists and pedestrians every day.
Even as WR is trying its best to invite parties that can reconstruct the bridge in the shortest possible time, its closure is expected to create major chaos in the already congested area, especially during office hours.
"We have invited applications from structural engineers and consultants who can suggest suitable methodology and techniques for construction of the bridge," WR chief PRO Ravinder Bhakar said.
Meanwhile, Mumbai traffic police have listed alternate traffic routes for motorists from tomorrow morning.
* Traffic proceeding from Bharatmata junction to Shingte Master Chowk shall take a left turn from Shingte Master Chowk towards NM Joshi Marg.
* Traffic proceeding from Arthur Road Naka to Shingte Master Chowk on NM Joshi Road shall take a right turn at Shingte Master Chowk towards Bharatmata junction.
* Traffic proceeding from Sant Rahidas chowk will come straight to Balkrishna Gawde chowk (Wadacha Naka) and Yadav chowk and may go straight to Rakhangi Junction on Senapati Bapat Road.
* Traffic proceeding from Worli naka to Yadav Chowk on Ganpatrao Kadam Marg shall take right or left turn at Yadav chowk for Senapati Bapat Marg.
Apart from the Lower Parel ROB, the audit team identified five other bridges that are in dire need of repairs. However, since the extent of damage is not as bad, Railways has asked the civic body to keep them open and initiate repair work at the earliest.
The five bridges that will be repaired on priority are Ferere ROB at Grant Road, Belasis ROB at Mumbai Central, Tilak ROB at Dadar, Carol ROB at Prabhadevi and the existing ROB at Mahalaxmi.
After the Gokhale bridge collapse, BMC had also shut the foot-over bridge at Matunga (West) station after finding cracks on it. The bridge was reopened after nearly two weeks.