Despite falling under silence zone, areas outside Mumbai hospitals noisier than stadiums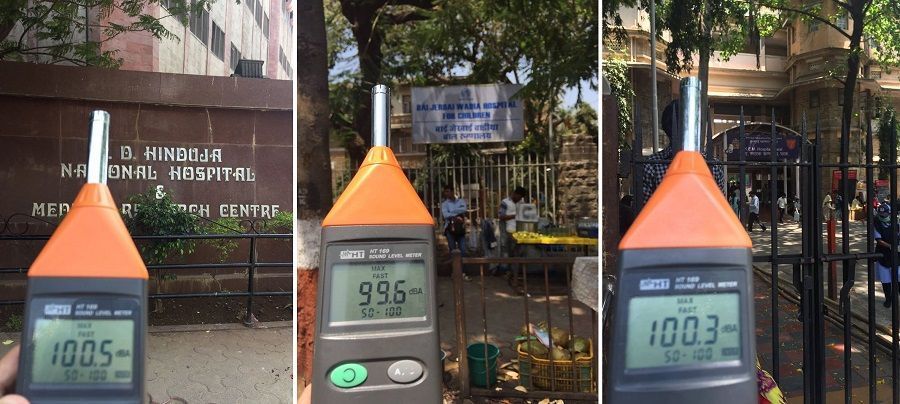 Ahead of the International Noise Awareness Day on Wednesday, a study by Awaaz Foundation has shown that noise levels outside six major hospitals in the city hovers around 100 decibels – twice the permissible limit and equivalent to that of a packed stadium.
The NGO sent representatives to measure the sound levels outside each of the six hospitals between noon and 3 pm on Tuesday. In all cases, vehicular traffic and unnecessary honking were the primary factors behind the exceeding noise levels.
While the highest noise level was recorded outside P.D Hinduja Hospital, Mahim (100.5 dB), the lowest was recorded outside Lilavati Hospital, Bandra (95.1 dB).
The noise levels at other hospitals were: KEM hospital, Parel (100.3 dB), Tilak Municipal General Hospital, Sion (97.3 dB), Holy Family Hospital, Bandra (97.4 dB) and Bai Jerbai Wadia Hospital (99.6 dB).
Since areas within 100 metres of hospitals are categorized as silence zones, Noise Pollution (Regulation and Control) Rules, 2000 mandate that the maximum noise level cannot exceed 50 dB during the day and 40 dB at night.
"The maximum noise came from constant honking and the traffic. The levels are so high even though the recordings haven't been done during peak hours. There is a great need to create awareness among citizens so that unnecessary honking is stopped," Sumaira Abdulali, founder of Awaaz Foundation was quoted saying.
Meanwhile, to curb noise pollution near hospitals, both doctors and locals feel that heftier fines need to imposed for honking near silence zones and not following traffic rules.
In the past, traffic police has also conducted multiple campaigns to sensitise citizens about unnecessary honking, but it has failed to yield any long term results.