Don't cut any trees in Aarey till October 21: Supreme Court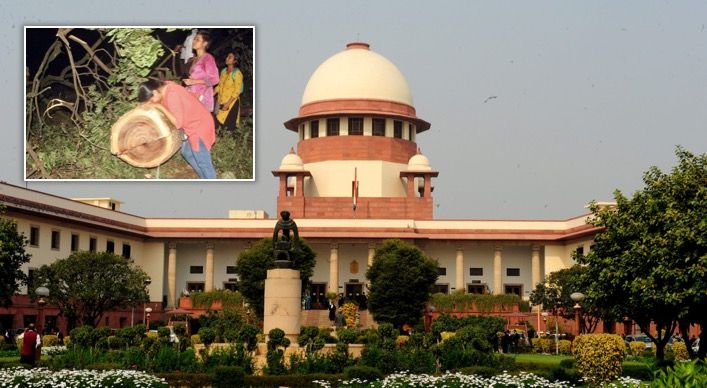 A special bench of the Supreme Court on Monday asked the Mumbai Metro authorities to stop felling of trees in Aarey till it examines the case.
Earlier today, a special bench of Justices Arun Mishra and Ashok Bhushan started hearing the plea filed by a law student on the felling of trees in Mumbai's Aarey to set up a Metro car shed.
"Don't cut anything now," the bench said posting the case to October 21.
Apart from maintaining the status quo, the SC also asked the Maharashtra government to file a report on the status of saplings it has planted in the Aarey area.
Metro authorities have claimed that they have planted 24,000 saplings to replace the felled trees.
The destruction of the alleged forest area is being opposed by green activists and local residents.
On Sunday, the apex court decided to register as PIL a letter addressed to Chief Justice of India Ranjan Gogoi by law student Rishav Ranjan seeking a stay on the cutting of trees.
A notice was posted on the Supreme Court website about holding the urgent hearing.
The MMRCL began axing the trees from Friday night, hours after the Bombay High Court had rejected a bunch of petitions by NGOs and activists against the felling of trees in the prime green area of the city.
Following protests, the Mumbai police have imposed Section 144 in and around Aarey and also arrested around 29 green activists. The activists were later given bail.
The law students, in their letter, had appealed for urgent hearing by the top court which is on the Dasara holidays for a week, contending that "part of Aarey will be cleared with all trees axed leading to irrevocable loss".
"As we write this letter to you the Mumbai authorities continue to kill the lungs of Mumbai i.e. Aarey forest by clearing trees near the Mithi Bank river and according to news reports 1,500 trees have already been cleared by the authorities," the letter said.
"Not only this but our friends are put in jail who were peacefully organising a vigil against the acts of the Municipal Corporation of Greater Mumbai (MCGM) with the Mumbai Metro Rail Corporation (MMRC) at the site," it added.