Doordarshan building, two hotels & a BMW: 4 fires reported in SoBo in last 12 hours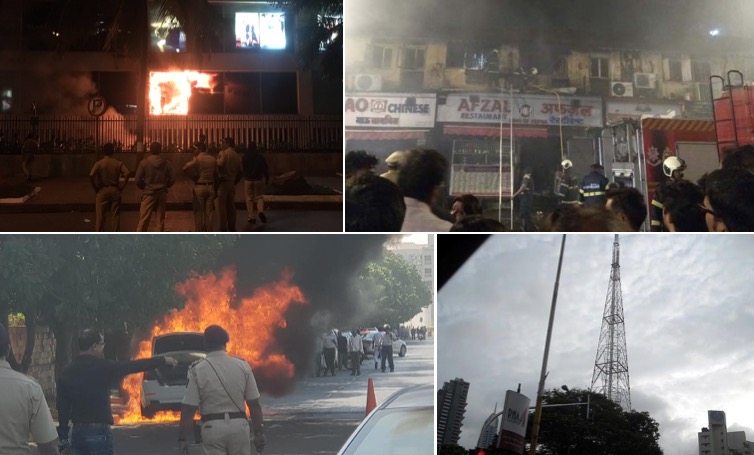 Barely three days after the tragic Andheri hospital incident, the series of fire-related incidents continue to wreak havoc in Mumbai, with at least four reported in South Mumbai in the last 12 hours.
1. Doordarshan Tower, Worli
A fire broke out at the transmission centre in Doordarshan's building in Mumbai's Worli area earlier today. Mumbai Fire Brigade was alerted about the mishap around 8:15 am.
While the fire has been doused, the broadcasting of private FM channels like 93.5 Red FM and 98.3 Radio Mirchi was affected from about 8:40 and the channels are yet to return on air. Restoration work is still underway.
The fire, officials say, was likely caused due to a short-circuit in the electric wiring.
2. BMW at Worli Sea-face
A few kilometers away from the transmission tower, a white-coloured BMW 5-series caught fire today morning. The private vehicle was travelling on the south-bound lane of Worli sea-face when the car suddenly went up in flames near Silverene Terrace building.
One fire tender was deployed to control the blaze, which did not result in any casualties. The luxury sedan, however, was completely charred by the time the fire was brought under control.
The blaze had affected traffic movement towards Haji Ali on the sea-face.
3. Afzal Hotel, Mazgaon
A blaze erupted at the Afzal Hotel located near Mazgaon Circle in south Mumbai around 11:30 pm yesterday. The fire brigade got a call about the blaze around 11.37 pm.
Fire tenders were rushed to the spot and the flames were extinguished by 1.15 am, an official said.
Some electric wiring, chimney and items in the hotel's kitchen were damaged in the fire, he said, adding that the cause of the blaze will be ascertained after an inquiry.
4. Showroom at Trident Hotel, Marine Drive
Just half an hour earlier, around 11 pm, a fire broke out at a high-end shopping centre on the ground floor of the Trident Hotel at Marine Drive.
The blaze was confined to a shop in the shopping centre, spread in an area of 2,000 sq ft, and it was doused around mid-night. Cooling operations, however, continued till late.
The hotel did not have to be evacuated due to the blaze.
The incidents come barely three days after a massive fire at the government-run ESIC Kamgar Hospital at Marol, Andheri resulted in the death of ten people and left over 170 injured.