Fake Msg Alert: News about terrorists in Chowpatty, Marine Drive a hoax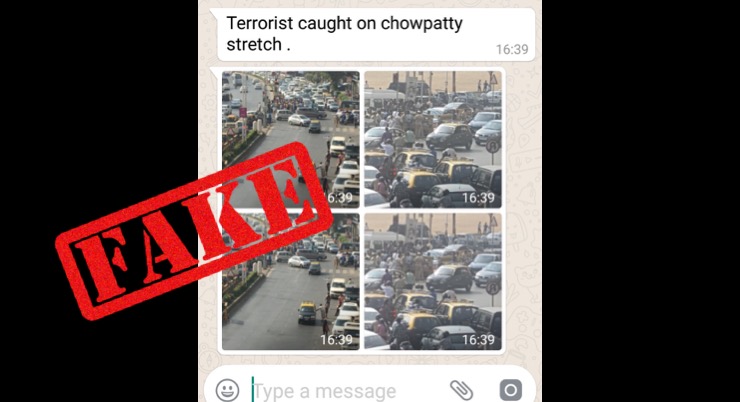 Social media has to bear the brunt of yet another hoax message, this time about an alleged terrorist activity at Girgaon Chowpatty in Marine Drive.
Over the last few hours, messages about the alleged arrest of multiple terrorists are going viral on WhatsApp and social media platforms like Facebook and Twitter.
Some of the messages read "Crazy traffic at Marine drive……Lots of Police……strong rumours of 3 terrorists caught" and "Terrorists caught at Chowpatty".
In some cases, the messages are appended with images depicting strong police and public presence in the area.
Fortunately, Mumbai police were quick to clarify that the messages were fake and news about any terrorist activity was completely untrue.
"Don't believe in rumours. No such incident has taken place," a senior official told Local Press Co.
Unlike most rumours, however, it is easy to understand what might have prompted these messages to go viral.
Earlier in the day, Congress workers were scheduled to hold a 'pakoda protest' against the BJP government at the state secretariat, with Mumbai Congress President Sanjay Nirupam spearheading the movement.
The protest was to highlight the rising unemployment in the country and in response to Prime Minister Narendra Modi's recent remark that "selling pakodas at a roadside stall is also employment".
But before Nirupam could reach Mantralaya, police pre-emptively detained him at Girgaum Chowpatty. In no time, hundreds of Congress workers gathered at the spot and raised slogans against the ruling government.
In addition to Congress workers and police officials, a huge crowd had gathered on the spot by evening, leading to minor chaos in the area.
Detained at Marine Drive https://t.co/rRWiByMGqM

— Sanjay Nirupam (@sanjaynirupam) February 8, 2018