Holi 2017: Mumbai sees fewer traffic violations, more pollution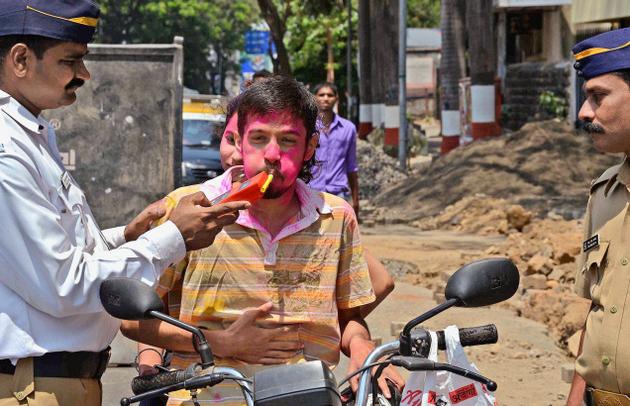 This year's Holi celebrations in Mumbai were characterized by fewer traffic violations, no major law and order problems and a sharp increase in pollution levels.
Traffic Violations:
According to data procured from the traffic police, the number of traffic offences fell by over 30 percent in 2017. Compared to the 6,700 offences registered last year during Holi, only 4,621 traffic offences were reported between 8 am to 8 pm on Monday.
While cases of drunk driving (317 in 2017 against 474 in 2016), riding without helmet (1,980in 2017 against 4,754 in 2016) and rash driving (34 in 2017 against 56 in 2016) declined, more offenders were booked for riding triple seat (436 in 2017 against 370 in 2016).
The decline, according to Joint Commissioner of Police (Traffic) Milind Bharambe, can be attributed to awareness campaigns and adoption of modern technology like CCTV cameras, e-challan system, advanced breath analyzers and speed cameras.
In addition, the deployment of over 2,000 police personnel also proved to be a deterrent.
Pollution:
While the drop in traffic violations was a welcome change, the city also saw an increase in pollution due to 'Holika Dahan'. As a result, the average Air Quality Index (AQI) rose from 75 on Friday to 312 on Monday. An AQI of over 300 is characterized as 'very poor'.
According to System of Air Quality and Weather Forecasting and Research (SAFAR), the AQI of Mumbai was three-times as bad as Delhi, which recorded an overall AQI of 105.
Within the city, Mazgaon was the worst affected with an AQI of 358, while Borivali was the least affected with an AQI of 247. Bhandup and Malad also saw an AQI of 333 and 324 respectively.
Injuries:
Thanks to the heavy police presence in the city, Mumbai did not witness any major law and order problems throughout Monday. The number of holi revellers seeking medical aid also declined.
According to reports, a total of 66 people approached the top three civic hospitals in the city – KEM, Sion and Nair – yesterday. While KEM treated 40 patients, Sion and Nair hospitals attended to 18 and eight patients respectively.
The most common recorded injuries were related to irritation in the eyes (due to colours), dehydration and nausea.