Metro 3: Colaba-Bandra-SEEPZ route to be operational by 2021, tunnelling begins at Mahim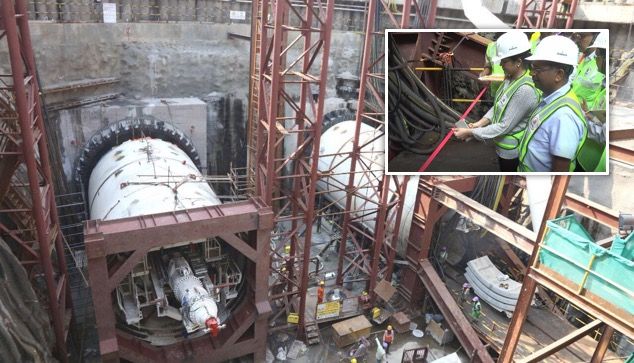 Metro-3 running between Colaba-Bandra-SEEPZ would be completely functional by the end of 2021, Mumbai Metro Rail Corporation Limited (MMRC) Managing Director Ashwini Bhide said on Friday.
Work on the project entered a crucial stage yesterday as a Tunnel Boring Machine (TBM) started excavation work in Mahim.
This is the first of the three TBMs which have already been lowered in launching shafts, one at Azad Maidan in south Mumbai and two in Mahim.
These TBMs will carry out boring 25-30 metres below the ground level in what is mostly rocky strata on the entire Metro Line 3 corridor, which will be the city's first running fully underground.
The TBM will cut the rock at an average speed of 12 metres per day.
Top officials including MMRC Managing Director Ashwini Bhide and others were present to witness the first excavation work by the TBM at Nayanagar.
The Line 3 will run between 33.50 km between Colaba-Bandra-SEEPZ with two underground stations and one at ground level, totally costing a little over Rs 23,000 crore.
For this, the Mumbai Metropolitan Region Development Authority has imported at least 17 TBMs, of which four have already arrived and the remaining 13 are expected by February next year.
The TBMs shall be launched through seven shafts and start boring the metrol tunnels from various points like Cuffe Parade, Chhatrapati Shivaji Maharaj Terminus, Mumbai Central, Worli, Bandra Kurla Complex, Mumbai Airport and Marol Naka.
The Aarey route of metro will be functional by June 2021, whereas all the other ongoing projects and routes will be functional by the end of the same year.
The entire tunnelling activity is likely to be completed within two years and the Metro Line 3 is expected to be operational on schedule by December 2021, Bhide said.
She also stated that the MMRC was following all the guidelines issued by the Bombay High Court regarding tunnel boring for metro routes and that all hurdles, including Aarey car shed issue, have been resolved.
With agency inputs