Video: You may be a superstar but need my permission to come to Alibaug, angry MLC tells SRK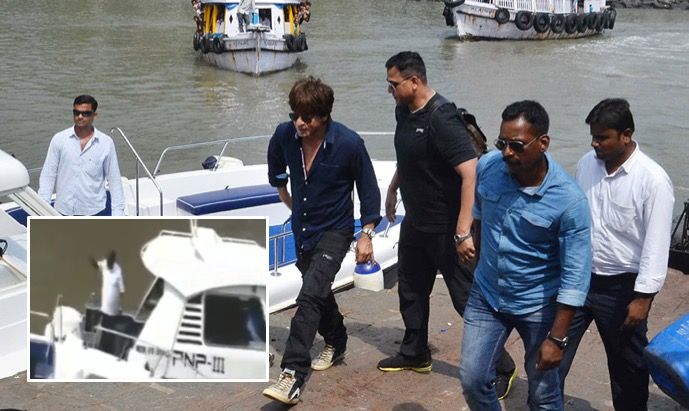 Shah Rukh Khan's much talked about birthday party in Alibaug last week is in the news once again. But this time, it's because of a scolding that the actor got from a local MLC who was apparently pissed by his presence in the coastal town.
On November 1, Khan had hosted a party in Alibaug to celebrate his 52nd birthday. The lavish bash was attended by the who's who of Bollywood.
The affair is in the news once again as a video of Member of Legislative Council from Alibaug, Jayant Patil, scolding at the actor is going viral on social media.
The MLC is also the President of Shetkari Kamgaar Paksh and bears a lot of influence in Alibaug.
The incident took place on November 2, when the actor was sitting inside his yacht parked at the Alibaug jetty.
The incident:
Considering Khan's popularity, a huge crowd had gathered outside the jetty to wish him on his birthday. The crowd inadvertently made it difficult for the MLC, whose own yacht was parked next to SRK's, to board his yacht and leave for Mumbai.
An infuriated Patil shouted at the crowd for creating a ruckus, but finally managed to board his yacht by going through the actor's parked yacht.
After boarding, he lost his temper on the actor and was seen shouting at him while the latter was sitting inside his yacht.
'You may be a superstar but you don't own Alibaug. Without my permission you can't come to Alibaug," Patil shouted in Marathi.
#WATCH: Jayant Patil, Maharashtra MLC from Alibaug, heckled Shah Rukh Khan for not coming out of his yacht at Alibaug Jetty (Mobile video) pic.twitter.com/lq5owiKZnw

— ANI (@ANI) November 11, 2017
SRK did not respond to Patil's statement and was met with a thunderous applause when he came out of his yacht to greet fans later.
Later, the MLC told Free Press Journal, "While coming I saw police men were struggling to control the crowd who were waiting to see a glimpse of Shah Rukh Khan, even I was not given space to go to board my yacht…He might be celebrity but should behave."
"Celebrities who own houses in Alibaug come here and create nuisance, where late night parties go on, and police don't even take action. I will take this matter very seriously and will put this matter forth before the assembly," he added.