Minors, cop among 12 dead during Ganesh immersion in Maharashtra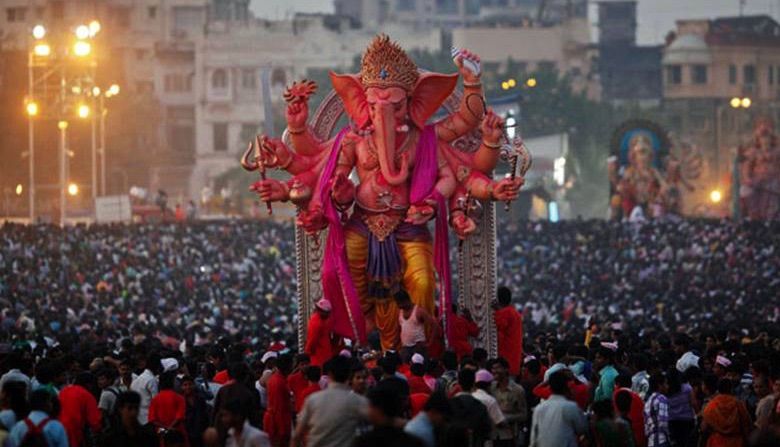 At least 12 people, including minors, lost their lives on Tuesday during the immersion ceremony on Anant Chaturdashi, marking the end of the 12-day long Ganeshotsav celebrations in the state.
According to official sources, four persons drowned in the Indrayani river in the twin cities of Pune and Pimpri-Chinchwad, three in Aurangabad, two in Jalgaon and one each in Nashik and Beed during the day as thousands of idols were taken out for immersion.
In Mumbai, an Assistant Sub-Inspector who was posted on Ganeshotsav duty at Lalbaug in Parel, suddenly collapsed and died.
One person was reported to be missing in Indrayani river in Pune and a search is on to trace him, officials said.
This was the 125th year of the state's biggest public festival, started in a modest way by Lokmanya Bal Gangadhar Tilak in 1894 to rally the masses during the Independence movement and bypass restrictions imposed by the British rulers on public meetings.
The idols were brought onto the roads to the accompaniment of 'dhols' (drums), cymbals, with thousands dancing and chanting "Ganpati Bappa Moraya, Pudhchya Varshi Lavkar Ya" (Lord Ganesha bless us, come soon next year), in clouds of auspicious red 'gulaal'.
Chief Minister Devendra Fadnavis and is family members immersed their idol in an artificial pond outside his home, while several ministers and lawmakers joined the festivities by dancing, playing 'lezim' and beating drums with the public.
Tight security by multiple agencies was in place in Mumbai since the Ganesh Chaturthi on August 25 with over 40,000 personnel of the Mumbai Police, teams of Fire Brigade, the Indian Navy, the Indian Coast Guard, disaster management units deployed.
Besides, helicopters, high-speed patrol boats and hovercrafts watched over the coastline, and over 5,000 CCTVs closely monitored the western megapolis.
Drones too kept an eye in Mumbai and other cities both for aerial surveillance and for beaming real-time images to the monitoring agencies during the immersion ceremonies.
A team of Disaster Amateur Radio Emergency Services, an amateur HAM radio operators' group, was also active at various spots in Mumbai.
The main immersion site in Mumbai was the the historic Girgaum Chowpatty which attacted several lakh people, including domestic and foreign tourists.
Top officials like Police Commissioner Datta Padsalgikar and BrihanMumbai Corporation (BMC) Commissioner Ajoy Mehta personally kept a tab on all the developments.
Thousands of domestic idols also joined the giants for immersions at the Dadar Chowpatty, Mahim seaface, beaches of Juhu, Versova, Gorai, Madh, Marve, Manori, Sanjay Gandhi National Park and Aarey Milk Colony.
Natural ponds and artificial water bodies were also created for an eco-friendly immersion all over Mumbai.
This year, the city hosted around 11,550 big Ganeshotsav celebrations with budgets running into several crores of rupees; 190,000 medium or small groups with budgets of around Rs 500,000 to Rs 5 million, and millions of individual households in Mumbai and rest of Maharashtra.
Further, the Maharashtra Tourism Development Corporation even made special arrangements for domestic and international tourists from the US, Europe, Japan, Thailand and other countries to view the immersion ceremonies at Girguam and other places as part of its new "Ganeshotsav Tourism" initiative.
As usual, some of the biggest idols were seen in Mumbai at the famed Lalbaugcha Raja, Ganesh Gully, Borivali's Kastur Park, Sewricha Raja, Andhericha Raja, Fortcha Raja, Khetwadi, Bandra and Shivaji Park.
With agency inputs.