Mumbai may witness 'wet' Diwali amid rain forecast during weekend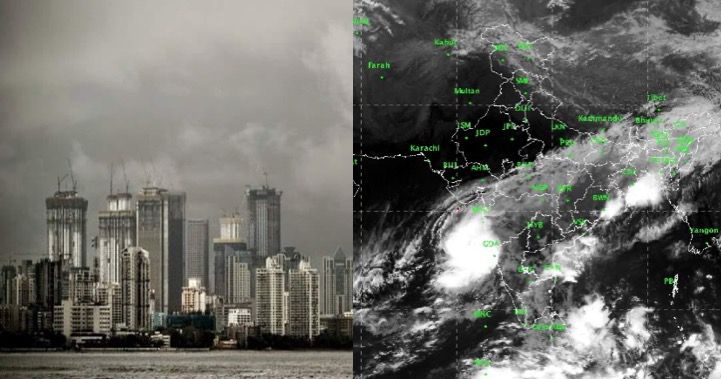 Parts of Maharashtra, including Mumbai, may receive rainfall in the next 48 hours with the deep depression over the east-central Arabian Sea intensifying into cyclonic storm 'Kyarr'.
The storm is centered about 240 km west-southwest of Ratnagiri in Maharashtra.
According to the India Meteorological Department (IMD) forecast, parts of Konkan, Goa and Coastal Karnataka would receive rainfall in the next 48 hours due to the formation of a cyclonic storm in the Arabian sea and a low pressure in the Bay of Bengal.
The storm is "very likely" to intensify into a severe cyclonic storm during the next 24 hours and later into a 'very severe' cyclonic storm during the subsequent 12 hours.
"Under the influence of the above systems, fairly widespread to widespread rainfall with isolated heavy to very heavy with extremely heavy falls likely over Konkan & Goa and Coastal Karnataka during the next 24 hours," it said in a release.
The IMD had earlier issued an alert along the coast of Goa, Maharashtra, and Karnataka for the next two days and advised fishermen not to venture in the Arabian Sea till October 28.
"The storm is very likely to move east-­northeast-wards till the evening of October 25. Then it is very likely to re­curve and move nearly westwards towards south Oman and adjoining Yemen coast with gradual intensification during subsequent 72 hours," the department said in its earlier release.
Deep Depression over eastcentral Arabian Sea intensified in a Cyclonic Storm 'KYARR' abt 240 km W-SW of Ratnagiri, 380 km S-SW of Mumbai. Very likely to move W-NW to Oman coast next 5 days
Very likely to intensify into a Severe CS next 24 hrs & into VSCS during subsequent 12 hr pic.twitter.com/Xdq6ECnGUO

— K S Hosalikar (@Hosalikar_KS) October 25, 2019
The IMD issued a red alert for Goa and Dakshin Kannada, and a yellow alert for parts of Maharashtra.
The yellow alert, forecasting heavy rains at isolated places in the city on the weekend of October 26-27, may dampen the spirit of Mumbaikars, who are gearing for Diwali festivities.
The city has been witnessing sporadic rainfall and thunder since last week even though the official withdrawal of monsoon was declared on October 14. The spell is expected to continue till the end of October, the IMD has said.