Posters referring to Aaditya Thackeray as 'Future CM' emerge in Worli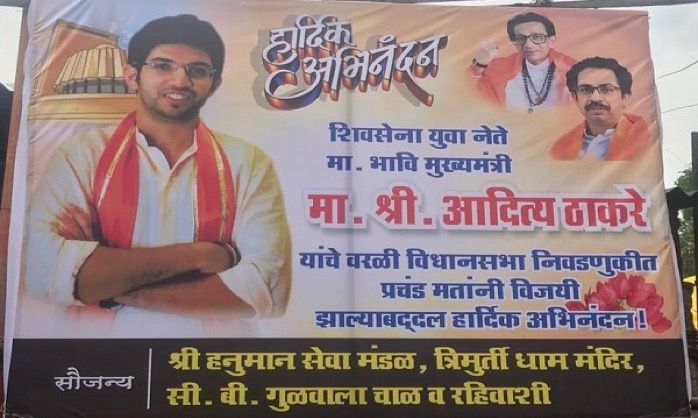 Posters referring to Aaditya Thackeray as the 'future Chief Minister' of Maharashtra have started surfacing in Mumbai's Worli, the constituency from where the Sena scion won the recently concluded Assembly elections.
Thackeray, who fought his first-ever election this time, won with a margin of over 60,000 votes against the Nationalist Congress Party's (NCP) Suresh Mane.
The posters, congratulating the 'future CM of the state' for winning the assembly elections with a large mandate, were purportedly been put up by Sena workers in Worli earlier today.
While the reference to 'future CM' is in line with Sena's earlier demands, it may prove to be a point of contention for its senior ally in the state, the BJP.
Since before the polls, the Sena has been projecting Aaditya as the chief ministerial face in a bid to fulfil the promise Uddhav made to his late father Bal Thackeray about installing a 'Shiv Sainik' as the CM of Maharashtra.
However, the BJP has remained adamant about incumbent CM Devendra Fadnavis helming the state's affairs once again if the NDA retains power.
In the recent polls, the BJP won 105 seats while ally Shiv Sena bagged 56 seats, breaching the majority mark in the 288-member Assembly.
Interestingly, even though the BJP emerged as the single largest party in the state, it needs Sena's support to form a government.
Further, political observers say the NCP-Congress alliance, which won 98 seats, is warming up to Sena in a bid to remove BJP from power. The opposing alliance, which has little to lose by allying with Sena, could even give away the CM's post to seal the deal.
The prospect of BJP's dependency and a possible offer from NCP-Congress have put the Shiv Sena in a unique position, thereby increasing its bargaining capacity.
When asked about his son's elevation to the CM's post, Uddhav Thackeray on Thursday said that the decision would be taken after deliberating upon the formula discussed with BJP prior to the polls.
"When we contested the Lok Sabha elections, a 50-50 formula was finalised. We had also discussed that the two parties will contest on 144 seats each. However, we gave consideration to the BJP and contested on 124 seats. The decision to form a government will be taken after a discussion with BJP chief Amit Shah and CM Devendra Fadnavis," Thackeray was quoted as saying.
Prior to the polls, the Sena had suggested a two-CM policy that would allow it to install one of their own party members as the CM for half of the five-year term.