CR to start Mumbai-Nashik, Mumbai-Pune trial runs next month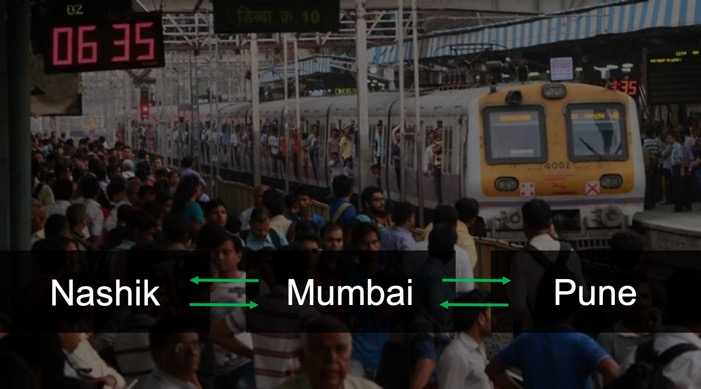 In welcome news for commuters, Central Railway (CR) is set to start conducting trial runs of EMU rakes on Mumbai-Pune and Mumbai-Nashik routes from next month.
According to railway officials, the trials will be conducted to gauge the feasibility of operating these rakes as full-fledged local trains on these two sections.
Given that both Pune and Nashik are located within 200 kms of Mumbai, there's been a longstanding demand for starting services on the section. However, the ghat sections on both routes pose serious challenges.
"The trial run will witness many firsts in the entire Indian railway network. For the first time, the EMU (Electrical Multiple Unit) rakes will be passing through the long-terrain of steep gradient in ghat sections," a CR official was quoted as saying.
On Mumbai to Pune route, the ghat section stretches for around 28 km from Karjat to Lonavala. Meanwhile, in Nashik, the hilly terrain extends 16 km from Kasara to Igatpuri.
CR's Mumbai division has already received a rake from Integral Coach Factory (ICF), Chennai. However, it will require several modifications before it can run on the route.
"All these modifications are being carried out in one of the car sheds in Mumbai. When they get completed, the trials will start," the official said.
Apart from ensuring passenger safety while travelling on the ghat section, a banker locomotive may also be permanently attached to the rake to allow it to traverse the steep gradient.
Officials expect the modifications to take a month's time, which also includes time for safety approvals. As a result, actual trials may only start by the end of March.
If the trial runs are successful, locals will start plying between Kalyan-Nashik Road and Kalyan-Pune stations.
Other than significantly cutting down travel time, the direct connectivity will prove to be a boon for commuters who will have a viable alternative to the congested highways.