Mumbai police becomes country's first unit to cross 4 million followers milestone on Twitter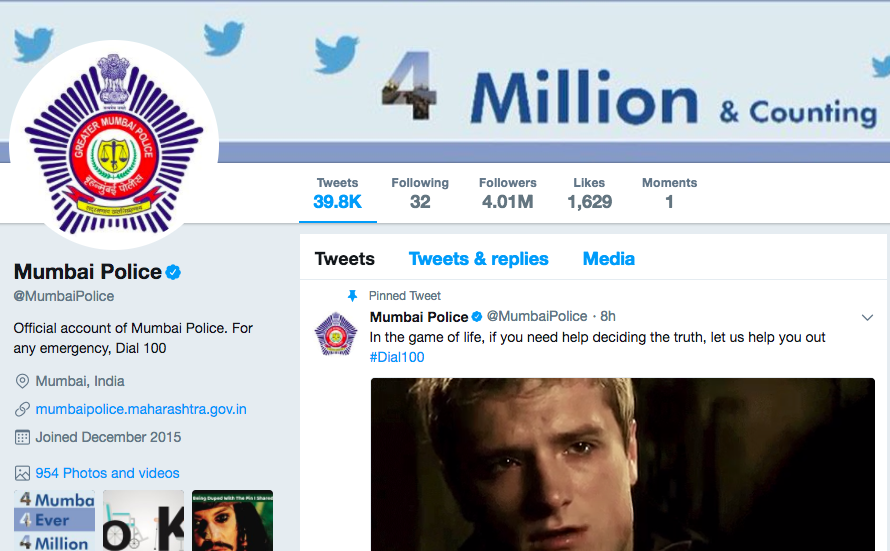 While it's not news that Mumbai police is popular on Twitter, the city police reached a major milestone yesterday by crossing the 4 million followers mark on the micro-blogging platform.
Maharashtra Chief Minister Devendra Fadnavis and former Mumbai Police Commissioner Ahmed Javed had launched two Twitter handles – @MumbaiPolice and @CPMumbaiPolice – on December 28, 2015.
Although Mumbai police wasn't the first in the country to sign up on the platform, they did receive an overwhelming response from citizens, amassing near 10,000 followers within the first 24 hours of launching its official handle.
In the two years since its launch, thousands of Mumbaikars have reached out to their official account to complain about a variety of issues. In certain cases, the cops have even taken suo moto action against offenders.
The account is managed by a dedicated team that prioritizes complaints and forwards them to the necessary departments or officials for action. The team works 24×7 and has sent almost 40,000 tweets till now.
Incidentally, Mumbai police have also left other city departments behind as far as the number of Twitter followers are concerned.
The official accounts of both Delhi (launched in 2013) and Bengaluru (launched in 2012) police currently have 1.58 lakh and 9.8 lakh followers respectively.
At the time of launch, when asked why it took so long for Mumbai police to join Twitter, Joint Commissioner, Mumbai Police (Law and Order) Deven Bharti had said it was due to the delay in completing the necessary procedures, like setting up the infrastructure.