INS Viraat: World's oldest serving aircraft carrier to retire after 55 years of service, 11 lakh km of sailing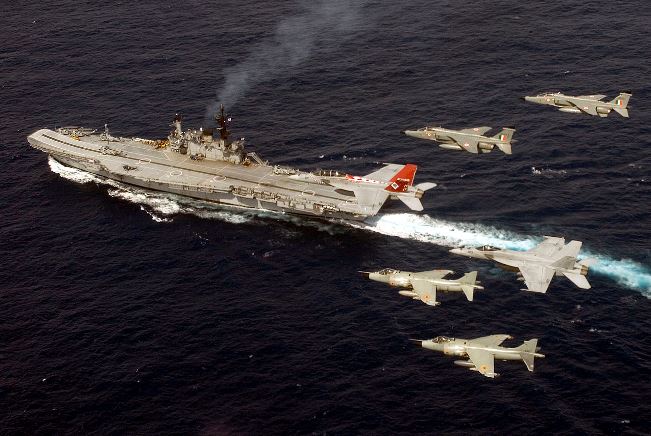 The world's oldest aircraft carrier in service, the INS Viraat, will be decommissioned from the Indian Navy today with a ceremonial send-off in Mumbai.
On Monday evening, the Naval flag atop the ship, also known as the "grand old lady", will be lowered and wrapped at sunset, marking an end to its long journey of 55 years, including 30 years in the Indian Navy.
The decommissioning ceremony in Mumbai will be attended by Defence Minister Manohar Parrikar and other dignitaries.
In addition, 21 of its 22 former commanders will also be present to bid a final goodbye.
Viraat was completed and commissioned in Britain's Royal Navy as HMS Hermes on on November 18, 1959. In 1984, it was decommissioned from the Royal Navy and subsequently commissioned by the Indian Navy on May 12, 1987.
The ship has seen a series of aircraft operate from its decks, including the the Sea Harrier, White Tigers, Seaking 42B, Seaking 42C and Chetaks.
Under the Indian Flag, various aircraft have flown more than 22,034 hours from the decks of the INS Viraat which implies that the carrier has been at sea for over six years covering the entire globe about 27 times (nearly 11 lakh kilometers).
The ship played a major role in the Operation Jupiter in 1989 as part of the Indian Peace Keeping Force operations in Sri Lanka and Operation Vijay in 1999 during the Kargil War.
The last operational deployment of the ship was at the International Fleet Review (IFR-2016) in Visakhapatnam.
The decision on the warship's future has not been taken yet. But the warship would be possibly converted into a museum, hotel or preserving it as a relic of maritime history.
The Andhra Pradesh government has proposed to convert the INS Viraat into a museum. However, with an estimated cost of Rs 1,000 crore, the idea may not see the light of day.
According to Navy Chief Sunil Lanba, converting it into a tourist attraction for divers is one of the plans that is being considered.
"One proposal could be that we convert her into a marine museum by taking her to one of our major tourist harbors and sink her in the water and make her into a dive site – where some aircraft carriers have been put to rest also – and she would be there as a legacy," Admiral Lanba told NDTV.
However, if no buyers are found, she might even be sent to Alang in Gujarat, where she will be broken up and sold for scrap.