Mumbai Police pins blame on BMC, gives Railways clean chit after initial probe into CSMT FOB collapse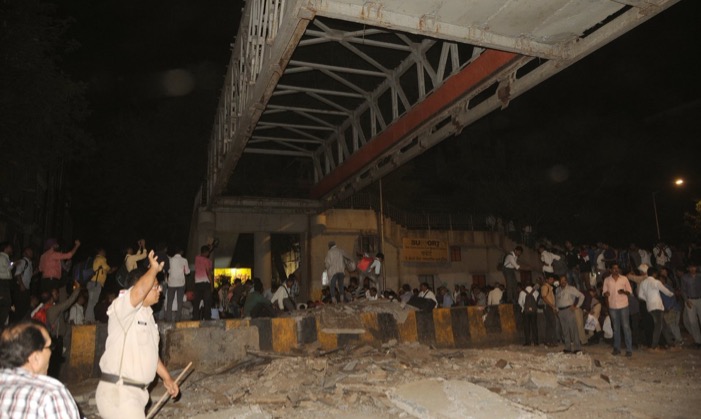 Following a preliminary investigation, Mumbai Police has given a clean chit to Railways and pinned the blame on BMC for the foot-over-bridge (FOB) collapse at CSMT.
Mumbai Police began a probe into whether officials from Central Railway or BMC were responsible for the mishap at CSMT yesterday, which claimed the lives of six people and left over 30 injured.
According to reports, cops had called officials from both CR and BMC for questioning earlier today.
After an initial round of questioning, police have reportedly found that Railways did not have any say over the affected FOB and the responsibility of maintaining the bridge was with the BMC.
While the findings are in line with the Railways' earlier statement, wherein it claimed that the bridge's maintenance fell under the jurisdiction of the civic body, it is a stark contrast from what BMC officials claimed.
A BMC official had earlier claimed that the body had paid Railways for the bridge repairs, but the national transporter failed to undertake the work.
Police are yet to submit the final report to Chief Minister Devendra Fadnavis, who has ordered the Municipal Commissioner to affix the 'primary responsibility' on the officials by end of today.
Police will lodge separate first information reports against them, the CM said earlier today.
Meanwhile, BMC Commissioner Ajoy Mehta has already ordered the Vigilance Department to submit a preliminary report within 24 hours, identifying the Municipal staff responsible and responsibility of structural auditor for the incident.
Neeraj Desai of D D Desai Associate Engineering Consultants had reportedly audited the bridge in December 2016 and recommended minor repairs. However, the civic body never acted on the audit report.
In another audit, carried out in 2018, the bridge was found 'safe'.
The police will also be questioning the auditors who surveyed the structure to ascertain any wrongdoing on their part.
A case against officials of Central Railway and the BMC was registered under section 304A (causing death by negligence) of the IPC at the Azad Maidan police station yesterday. The names of all accused BMC officials will be added to the FIR.