Senior BMC officials, auditor under scanner for CSMT bridge collapse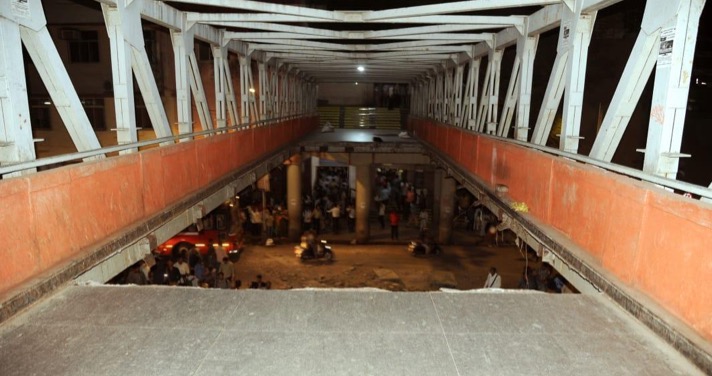 A day after the foot-over-bridge collapse at CSMT, a preliminary inquiry report of the BMC has accused the external structural consultants of negligence and recommended police action against them.
Five senior officials, including two retired, have also been named in the report.
According to reports, a suspension and enquiry order has been issued against Chief Engineer A.R. Patil, Assistant Engineer S.F. Kakulte and a full-fledged departmental enquiry will be conducted against Executive Engineer A.I. Engineer.
The two retired officials, Chief Engineer (retd.) S.O. Kori and then Deputy Chief Engineer (retd.) R.B. Tare will also face a departmental probe.
"There is a prima facie reason to believe that the structural audit has been conducted in an irresponsible and negligent manner. This tragedy could have been avoided if the structural audit had been done diligently," said the report, naming Prof. D.D. Desai's Associated Engineering Consultants & Analysts Pvt. Ltd, which had audited the 35-year-old bridge last year.
The report also said it was apparent that the structural audit was not carried out correctly and major lapses have been observed, it failed to point out an impending failure and despite the public money spent on it for commissioning the audit, "the true condition of the bridge was not brought out."
It has also ordered that the audit firm should immediately be blacklisted, struck off the BMC's panel and the Maharashtra government must be informed about the same.
All pending payments should be stopped to the company and past dues must be recovered from it, the report said.
The probe report, approved by Municipal Commissioner Ajoy Mehta, came after Chief Minister Devendra Fadnavis directed him for the same and fixing the responsibility on the concerned officials of the Shiv Sena-controlled civic body.
Meanwhile, some experts and former civic and police officials questioned the decision to dismantle the entire bridge within hours of the tragedy and pointed out that vital evidence has been lost in the process.
The report has discussed three major aspects – that the earlier structural repairs carried out between 2012-2014 by contractors RPS Infrastructure Pvt. Ltd. was not proper, the structural audit conducted between 2016-2018 by Prof. D. D. Desai's AECAPL was not correct, and the lapses on the part of the BMC's supervising officials entrusted with the work of overseeing the duties of the external agencies.
The BMC chief has also ordered that all the structural audit work given to AECAPL be withdrawn and the work it has completed should be re-audited by another company.
Similarly, the structural audits carried out by various consultants for all other 374 bridges under the BMC shall be re-examined and re-audited by the same consultants who will not be paid any fess for the re-audit.
---
Also Read: Mumbai Police pins blame on BMC, gives Railways clean chit after initial probe into CSMT FOB collapse
---