Mumbai temple performs 'yagna' for Trump's victory in US elections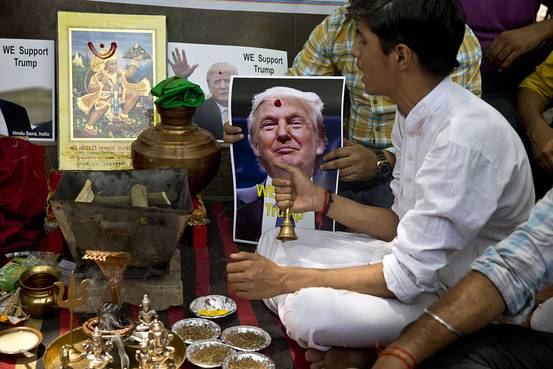 With less than a day left for the US presidential election, some rituals seeking divine blessings for the victory of Republican candidate Donald Trump were performed in a temple in Mumbai at the behest of a few Non-Resident Indians (NRIs).
"We performed two yagnas for the victory of Trump. The rituals were performed at the behest of NRIs in the US," Vishnudham temple trustee Ramesh Joshi told news agency PTI.
The temple, located in north Mumbai suburb Kandivali, conducted the three-hour-long rituals, Joshi said.
"Some NRIs in the US are regular visitors to the temple when they visit India. They asked us to perform the yagnas. Accordingly, two yagnas were performed. The Vijay Prapti Yagna was to ensure victory for Trump and the Shasan Prapti Yagna was to help him govern the US," Joshi said.
"The NRIs told me that Trump has assured the Indian diaspora in the US that he will work for eliminating the terror menace in India, if elected," Joshi said.
A few days back Trump borrowed Prime Minister Narendra Modi's winning slogan of the 2014 general elections and modified it to "Ab Ki Baar Trump Sarkar" in a bid to woo Indian-Americans.
The ad, specifically targeting the Indian-American vote bank, featured the 70-year-old presidential nominee and was running on 20 channels.
But despite all his attempts to win over minorities, most US polls show that people of Indian and South-East Asian origin are likely to vote for Trump's rival Hillary Clinton in the elections.