Mumbai's biggest auto union to go on strike on August 31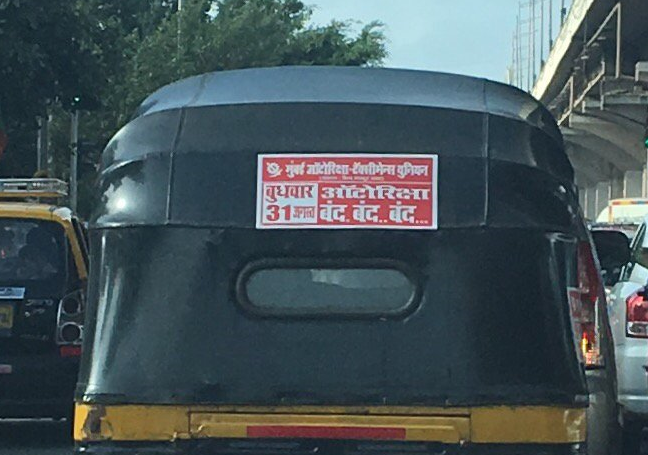 Mumbai's biggest auto rickshaw union will go on a one day strike to protest against the plying of cabs associated with app-based aggregators like Ola and Uber on Wednesday, August 31.
Shashank Rao, leader of Mumbai Autorickshawmen's union, had called for the strike during the first week of August. Drivers associated with the union are expected to participate in a huge morcha at Azad Maidan. No autos affiliated with the union will ply in the eastern and western suburbs of the city tomorrow. The strike will be in effect till 6 pm on Wednesday.
Since earlier protests at Azad Maidan had badly affected the movement of traffic around the CST area, there is likelihood that the same situation may arise again on Wednesday. In addition, commuters may also be inconvenienced by the less number of rickshaws plying on the road.
Rao called for the strike to oppose the illegal transportation of commuters in private vehicles operated by drivers without badges and to demand a complete ban on aggregators like Ola and Uber. In addition, the union has also demanded the government to put an end to the 'surge pricing' policy adopted by the companies which allows them to charge more during peak hours.
On August 29, two taxi and auto unions, namely Jai Bhagavan Mahasangh and Swabhiman Taxi and Rickshaw Sanghatana, had called for an indefinite strike following the state government's failure to regulate app-based taxi aggregators.
However, the strike was called off the previous day after State Transport Minister Divakar Raote intervened and assured them of a positive decision. Raote has set up a meeting with the union heads to discuss the their demands on September 1.
While all other unions agreed to the meet and postponed the strike, Rao remained adamant about going on strike as planned.
Meanwhile, the state government has already prepared the City Taxi Scheme 2015 for regulating app-based taxis, but is yet to start implementing it. When implemented, it will limit their numbers and put an end to their lucrative 'surge pricing' policy.