No, Maharashtra Plastic Ban has NOT been postponed by 3 months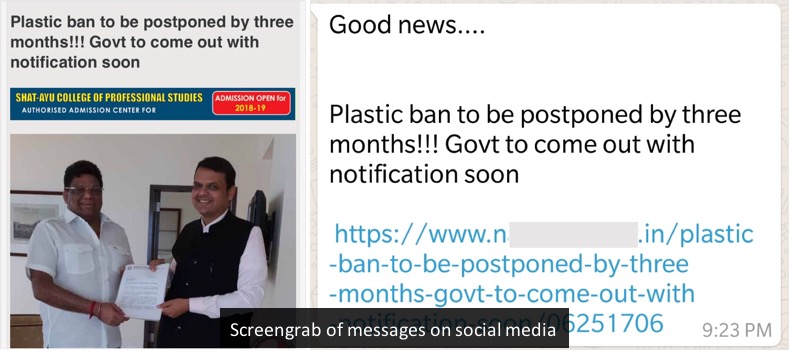 A misleading message/news about Maharashtra Plastic Ban getting postponed by three months started circulating on WhatsApp and several social media platforms from Monday evening.
The message, with a link to an article by a Nagpur-based digital news platform, claims that the ban is getting postponed by three months. The article carried the headline, "Plastic ban to be postponed by three months!!! Govt to come out with notification soon".
While the site itself was inaccessible at the time of publishing this article, a screenshot of the article was shared by many users.
The article claims that Chamber of Associations of Maharashtra Industry & Trade (CAMIT) President Dipen Agrawal met Maharashtra Chief Minister Devendra Fadnavis over the ban, following which the latter agreed to postpone it by three months.
It also mentions that a notification to the effect was expected soon.
At a time when citizens are confused over some aspects of the ban, many people welcomed the decision to delay the ban and vehemently shared the post on social media platforms.
Some, who were uncertain about its authenticity, took to platforms like Twitter to get a confirmation from official sources, but to no avail.
Reliable sources confirmed that CM Fadnavis indeed met with CAMIT President and assured him of taking their recommendations under advisement. However, no assurance or commitment was made about delaying the ban.
An official from the State Environment Department also confirmed that there are no plans of postponing the ban.
"We have not received any orders about postponing the ban. Citizens, traders, and manufacturers should all know that the ban is still in effect and violators will continue to get penalised," the official told Local Press Co.
---
Must Read:- Maharashtra Plastic Ban: Do's and Don'ts from June 23
---
Incidentally, many businesses and trade organisations have approached the Maharashtra government with requests to delay the ban or make certain exemptions.
While many of such requests are under consideration, the ban itself is expected to continue as is.
Citizens are therefore requested not to forward any such message without verifying it first and inform those who might have been misled by the said message.