Odd-even parking to come up in crowded SoBo market on pilot basis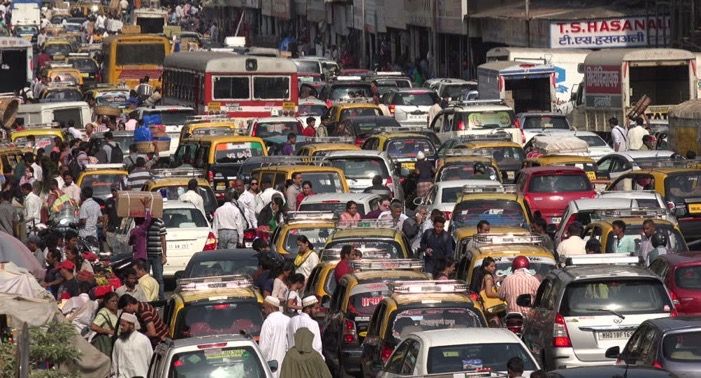 The Mumbai traffic police department is planning to implement 'odd-even' parking for vehicles to reduce congestion in crowded market areas.
The department has filed an affidavit to this effect in the Bombay High Court on behalf of the Joint Commissioner, Traffic.
The department told a bench of Justices Naresh Patil and GS Kulkarni that to begin with, the odd-even system will be allowed on a pilot basis, for vehicles in the Kalbadevi market area in South Mumbai.
The traders and the public visiting the market will be allowed to "park their vehicles on one side of roads in the Kalbadevi area on an odd and even basis," reads the affidavit signed by Amitesh Kumar, Joint Commissioner of Police, Traffic.
As per the affidavit, a meeting was conducted earlier last week between the traffic department and stakeholders of various markets.
In the meeting, the parties realised that lack of adequate parking space was one of the major reasons for traffic chaos in the area.
"Most of the stake-holders stated that there is an acute shortage of parking space in the market areas and that was adversely affect on their business.
"Therefore, with a view to facilitate smooth traffic movement in the area and uninterrupted business activities, it has been decided to provide various measures to decongest these areas. Taking into consideration the deliberations at this meeting, it has been proposed to provide an odd-even parking system on the roads of markets in Kalbadevi area," it said.
Public Prosecutor Poornima Kantharia, who appeared for the traffic department, told the HC that the traffic police were in talks with the BMC to implement various measures to help reduce traffic woes not just in Kalbadevi, but in other crowded market areas across the city.
At this, the bench suggested that the authorities also join hands with the concerned municipal ward officers and the local police to help implement these suggestions.
"If you involve the ward officers and make them accountable for implementation of these measures, there is a greater chance that you'll be successful," the bench said.
The bench was hearing a Public Interest Litigation filed by a city resident, Rakesh Shukla, raising concerns over traffic congestion in south Mumbai.
The traffic department had earlier informed the court that it had constituted a special committee including an expert from IIT Bombay, to come up with remedial measures.
The bench has now given four weeks to the traffic department to submit a report on the progress made in implementing the above measures.
With agency inputs