Passengers bleed mid-air on Jet Airways flight as crew forgets to maintain cabin pressure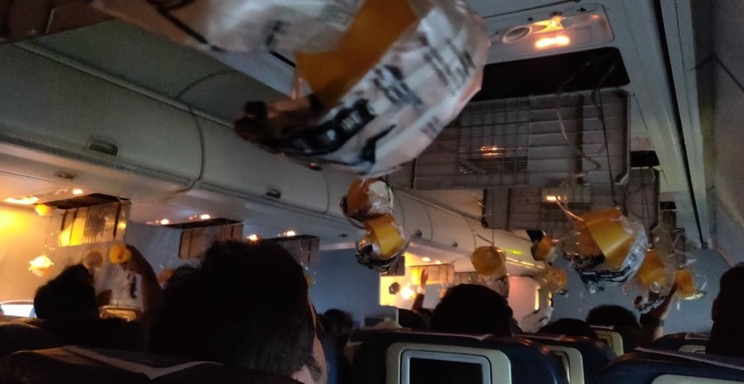 At least 30 passengers on a Jet Airways flight from Mumbai to Jaipur suffered nasal and ear bleeding on Thursday morning as the crew forgot to switch on the system that maintains cabin pressure.
The Boeing 737 aircraft took off from Mumbai airport on Thursday morning and turned back around 45 minutes later.
"During the climb, the crew forgot to select bleed switch due to which cabin pressurisation could not be maintained. As a result, oxygen masks got deployed," said Lalit Gupta, deputy director general, Directorate General of Civil Aviation (DGCA).
Citing initial information, the official said few passengers have nose bleeding.
"Out of 166 passengers on board, 30 passengers are affected…some have nose bleeding, few have ear bleeding and some are complaining of a headache," he added.
@jetairways Flight 9W 697 made an emergency landing back in Mumbai. Airplane lost pressure immediately after taking off…scores of passengers including me bleeding from nose….no staff to help…no announcement on board to wear the oxygen mask.passengersafety completelyignored pic.twitter.com/vO9O95aMCP

— Satish Nair (@satishnairk) September 20, 2018
The official said all the affected passengers are being attended to by the doctors at the airport. The crew, meanwhile, has been taken off duty and Aircraft Accident Investigation Bureau (AAIB) has started an investigation.
In a statement, the airline said the flight landed safely in Mumbai and first aid was given to affected guests.
"Jet Airways flight 9W 697 Mumbai to Jaipur on September 20, 2018, made an air turn back due to a loss in cabin pressure. The B737 aircraft, with 166 guests and 5 crew landed normally in Mumbai. All guests were deplaned safely and taken to the terminal. First aid was administered to few guests who complained of ear pain, bleeding nose etc," the airline spokesperson said.
The airline further stated that alternate travel arrangements were being made for guests.
"The flight's cockpit crew has been taken off scheduled duties pending investigation. The airline is making alternative flight arrangements for guests on this flight. Jet Airways regrets the inconvenience caused to its guests," it added.
The rescheduled flight took off at 10:15 am.
Some passengers shared videos of oxygen masks getting lowered due to the low cabin pressure in the flight.
(Video: Darshak Hathi)