Why penguins aren't feeling the 'love' in Mumbai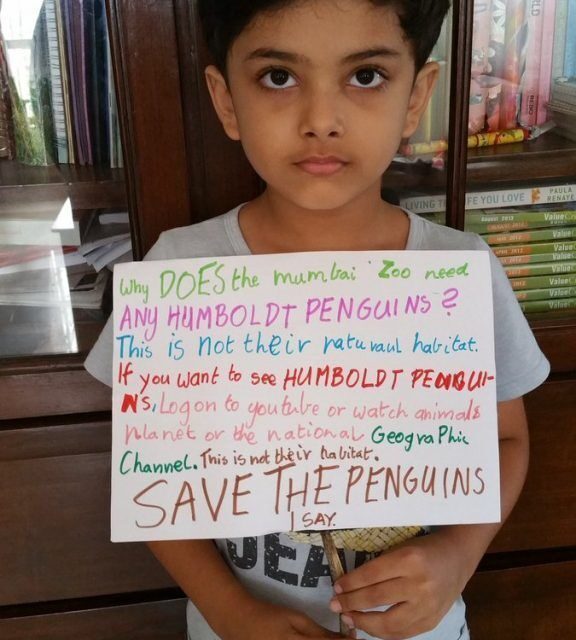 During the wee hours of Tuesday, Mumbai's Byculla zoo welcomed eight new Humboldt penguins, a first for any zoo in the country.
The decision to introduce penguins in the zoo was taken by the Shiv Sena-led civic body after the 2012 civic elections. Since then, the party has been fastidiously monitoring the progress pertaining to the construction of the enclosures and other formalities pertaining to their arrival. Yuva Sena chief Aaditya Thackeray is believed to have personally visited the zoo multiple times to check the progress.
At at outset, it looks like the zoo authorities and the civic body left no stone unturned when it comes to the bird's well being – from housing them in a temperature-controlled environment to constructing a 1500 sq.ft exhibition area and outsourcing their responsibility to a specialised agency.
All in all, a lot of time and money spent in making sure Mumbaikars, who've never explicitly asked to see penguins, get a chance to see them in all their 'captive' glory.
However, the decision to bring penguins in Byculla zoo has met with strong opposition from animal rights activists and citizen groups. While the move has received flak for a host of reasons, it's primarily been criticized on the grounds of:
The water conundrum
A fairly obvious problem with the plan is whether a city, reeling with water cuts, in a drought prone state can continue to provide for the penguins in the long run. And, even if it is able to, is it morally justified to do so when the state can find a hundred better ways of utilizing the resource?
The cost
The civic body has spent around Rs 2.5 crores on the purchase of the penguins and another Rs 6.5 crores on the construction of the their enclosure. But that's not where the expenses end. According to one report, the zoo will be required to spend another Rs 45 crores over the next 5 years on their overall upkeep, begging the question – is this the most effective way of spending the taxpayers money?
The endangered species
The Humboldt penguins aren't just rare, they're an endangered species of birds with less than 10,000 left in the world. So, for a species that is on the brink of extinction, is moving them away from their natural habitat really advisable?
The zoo's reputation
Byculla zoo has a poor record when it comes to the maintenance of animals. In 2010, for example, close to 140 animals died while they were housed in the zoo. Since then, the zoo is trying to make amends, but the condition of the animals housed there is far from acceptable. Moreover, how will the zoo maintain the temperature for the penguins in case of a power failure?
The move also faced strong criticism from netizens on social media.
Why stop at banning penguins in Mumbai zoo? Why not ban zoos altogether? Animals have rights, too.

— Shobhaa De (@DeShobhaa) July 24, 2016
#PENGUINSINMUMBAI?What is wrong with our planners? Talk of Nero fiddling get while Rome Burns! https://t.co/W9gRUsKCgF

— Bittu Sahgal (@BittuSahgal) July 25, 2016
Our 7yr old wants to stop penguins coming to Mumbai. Pls RT @Dev_Fadnavis @bmcmumbai #SayNoToHumboldtsMumbai pic.twitter.com/WnJqDn4xHB

— Preeti Vyas (@preetivyas74) July 24, 2016
Say no to bringing penguins and a 25-million-litre aquarium to #Mumbai. @bandrainfo @bandra_buzz @InfoMumbai @MumbaiMag @PetaIndia

— cecil thounaojam (@cecilthojm) July 22, 2016
Absolutely against procuring a single animal (let alone #penguins) for any kind of #Zoo across Mumbai City. We… https://t.co/AcOToEnQMh

— Manish Gadia (@manishgadia) July 22, 2016
2.5 mill Lts of water required for the Mumbai penguins. Mumbai BMC how about repairing the roads? Nah! Bring on the Penguins!

— Dilshad Master (@DilshadMaster) July 16, 2016
WTF! Penguins in Mumbai Zoo. Ridiculous. Someone is making a killing, literally. Must stop this now. https://t.co/3XrPttOoV7

— Vishu (@PakkaMumbaikar) July 1, 2016
Mumbai 2 spend 60 cr to get 6 penguins? How about spending that money on solving ur water/farmer/city's clogged drains? Ridiculous!

— Dilshad Master (@DilshadMaster) July 1, 2016
#maharashtra spending rs 68 crores to get penguins to #mumbai while 9 farmers die every day. #droughtgovernance pic.twitter.com/fwKDkgm3WC

— Sanjay (@mojosanjay) June 12, 2016
Oh look, a government that can't take care of its people, but is so positive of breeding penguins in an unnatural habitat! #penguins #Mumbai

— Sian Suantak (@sians19) April 18, 2016
Don't you even dare! Those poor things belong right where they were. Don't change their habitat for your selfishness. #mumbai #penguins #BMC

— Sian Suantak (@sians19) April 18, 2016
Penguins belong in their natural habitat. Mumbai is NOT their natural habitat. Stop this lunacy. #SAYNOTOHUMBOLDTSMUMBAI

— Surajit Agarwal (@surajitfa) April 17, 2016
Dear Sir @Dev_Fadnavis @CMOMaharashtra please tell us what is logic of #penguins in #mumbai? #drought #wildlife pic.twitter.com/5v9P1FV5m4

— Sanjay (@mojosanjay) April 15, 2016