In Pics: Fire breaks out at Mathuradas Mills compound in Lower Parel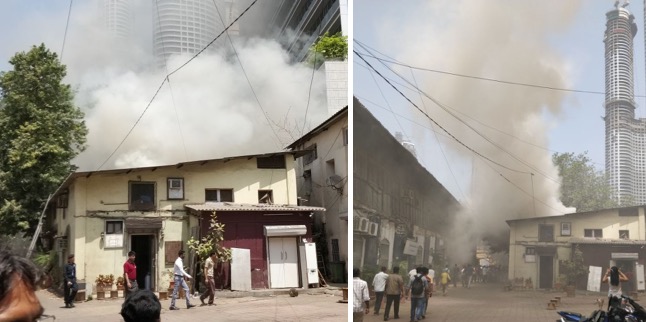 A massive fire broke out at a residential unit inside a chawl at Mathuradas Mill compound in Mumbai's Lower Parel area on Thursday morning.
Details about the fire:
Location: According to preliminary information, the fire broke out a residential unit located opposite Toit Brewery inside the crowded Mathuradas Mill Compound, next to Lodha Supremus building, on Senapati Bapat Marg in Lower Parel (West). The compound primarily houses offices and eateries, along with a handful residential units.
Some bystanders alleged that the blaze started at the staff quarters of Cafe Zoe, located inside the same compound. While it could not be ascertained if the fire originated from there, it was one of the units gutted in the blaze.
Time: The mishap took place around 10:30 am today, and the fire department was alerted immediately after. In the interim, staffers from nearby offices rushed to the spot with fire extinguishers and sand buckets.
Severity: By 10:50 am, one quick response vehicle was pressed into service to douse the flames. A few minutes later, a fire tender reached the spot. The vehicle was parked inside the Lodha compound due to the narrow entrance and proximity to the common wall.
Meanwhile, a massive crowd gathered inside the compound and a thick cloud of smoke engulfed the entire area, prompting the evacuation of nearby offices and other establishments. A play school, Klay Prep School and Daycare, located barely 20 metres away from the source of the blaze, was also evacuated.
Cause of fire: The fire is believed to have started due to a short circuit in the air-conditioning unit, although a final confirmation from the fire department is awaited.
Casualties & damage: No casualties have been reported in the incident till now.
Current status: Fire fighting is underway as of 11:20 am and the fire has been contained to 2-3 units inside the compound. Police authorities and an ambulance are on the spot. Further details area awaited.
---
Update:
(11:45 am) The blaze has been brought under control and cooling operations are underway.
---
Related: Fire engine fails to enter Todi Mill compound, thanks to BMC inaction
The incident comes four months after the horrific Kamala Mills blaze, which claimed 14 lives. Following the mishap, civic authorities conducted surprise checks at various places, including Mathuradas and Todi Mill Compound, to check for fire safety violations.
Over the last three months, several eateries in the compound were served notice and illegal encroachments were demolished to make them complaint with fire safety norms.
Earlier this week, a fire broke out in a flat located on the 14th floor of Raj Estate, Jari Mari Talav in Mira Road's Kashimira. The blaze did not result in any casualties.