In Pictures: Elphinstone, Currey Road & Ambivli FOBs open for public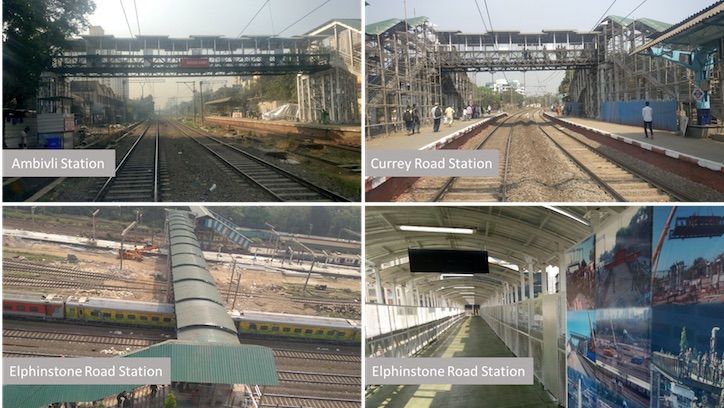 The three foot-over-bridges (FOBs) at Elphinstone Road, Currey Road and Ambivli stations, built by Indian Army in a record 117 days, were thrown open for public on Tuesday.
Both Central and Western railways ditched the convention of getting the FOBs inaugurated at the hands of dignitaries in a bid to pay homage to commoners who lost their lives in the tragedy.
WR got a flower vendor to inaugurate the FOB at Elphinstone Road (Lower Parel) station while CR got five Mumbai dabbawallas – Babban Walunj, Sopan More, Yamunaji Ghule, Ulhas Mukhe and Subhash Talekar – to inaugurate the FOB at Currey Road.
The bridge at Ambivali was opened by a group of female commuters. All three FOBs were inaugurated simultaneously at 3:30 pm.
Union Railway Minister Piyush Goyal, Maharashtra Chief Minister Devendra Fadnavis and Minister of State for Defence Dr. Subhash Bhamre, who were present at the inauguration ceremony at Elphinstone, dedicated the new bridges to Mumbaikars.
Fadnavis and Goyal traveled to Elphinstone from CSMT via a Mumbai local.
The Indian Army was roped in to build new FOBs in the wake of the Elphinstone tragedy, in which 23 people had died following a stampede at the FOB connecting Elphinstone Road and Parel stations on September 29.
While announcing the decision, CM Fadnavis said that the Army was tasked with the construction as they were in a position to build the bridges in a short span. The initial deadline for the completion of the FOBs was January 31.
While the FOB at Ambivli station was ready by the due date, the bridges at Elphinstone Road and Currey Road got delayed due to infrastructural challenges. Further, some work could only be done on Sundays to avoid inconveniencing commuters.
The new FOB at Elphinstone, spanning both Western Railways and Central Railways tracks, will connect Parel station on the East side and Phoolwali Gali outside the Elphinstone Road station on the West side.
73.1 m long & 3.65 m wide Elphinstone Road station FOB connecting Parel station, wch is built by @adgpi in record 117 days will be opened today. A big thanks to braveheart Indian Army! @RailMinIndia @drmbct pic.twitter.com/La1FfzafkR

— Western Railway (@WesternRly) February 27, 2018
It will help decongest both stations, used by around 3.5 lakh of commuters every day.
RPF personnel will be stationed at each end of the FOB during the first few days to help manage the crowd.
Here are some details about the three new FOBs inaugurated today.
Elphinstone Road:
Length: 73 metres
Width: 3.65 metres
Cost: Rs 10.44 crore
Currey Road:
Length: 30 metres
Width: 3.5 metres
Cost: Rs 3 crore
Ambivli:
Length: 20 metres
Width: 3.5 metres
Cost: Rs 2.7 crore