In Pictures: Mumbai govindas take unique approach to protest against SC order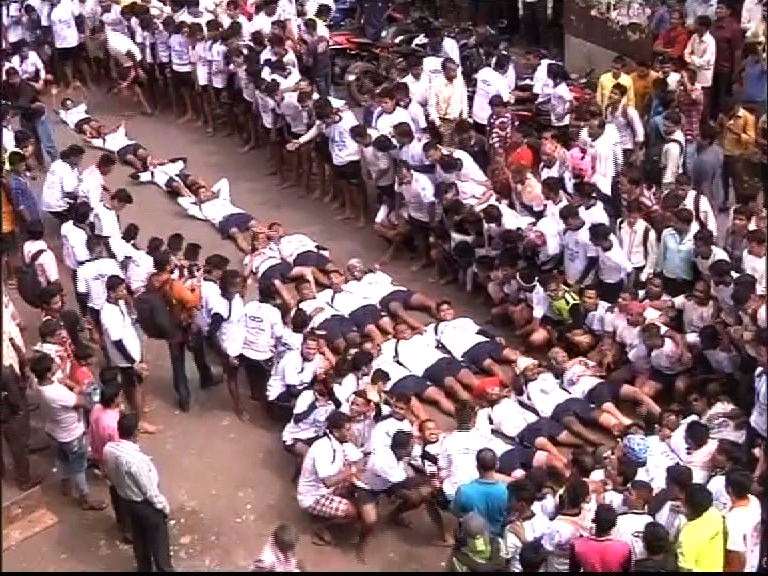 Following the Supreme Court's ban on human pyramids over 20 feet, the 'Govindas' in Dadar area of Mumbai on Thursday expressed their displeasure by laying down on the road and forming a horizontal pyramid on the occasion of the Dahi Handi festival.
"The Supreme Court has put a ban on 20 plus feet pyramids, so this is our symbolic way of expressing displeasure. We are lying on the ground as a mark of protest," a local told ANI.
Another local Ranjeet echoing similar sentiment said this is a protest against the apex court's order. "We will follow the court's order. Had the court given the order two months ago, our practices for this festival would not have gone in vain," he added.
In other areas, 'Govindas' showed black flags in protest against the apex court's order. They also used ladder to break the Dahi Handi as a sign of protest.
The apex court yesterday refused to entertain a plea seeking modification of restriction over height of human pyramid in the Dahi Handi functions.
A Dahi Handi organiser named 'Jai Jawan Krida Mandal Govinda Pathak' had sought relaxation in height restriction condition fixed at 20 feet. During the hearing, the petitioner stated that 170 people were admitted in 2012 and 190 people were seriously injured during the event the very next year.
The organizers of Dahi Handi festivals across the city have been asked to abide by the Supreme Court's guidelines.
The Mumbai Police has made arrangements for video shooting of the festivities and if any violation is found, further action will be taken as per the video footages.
Meanwhile, Maharashtra Navnirman Sena (MNS) chief Raj Thackeray criticized the apex court's intervention and asked the organizers to celebrate Dahi Handi with full gaiety. He, however, urged the organizers to avoid noise pollution, raucous crowds and commercialisation of the festival.
The Shiv Sena has also expressed displeasure over the court's decision and said that Dahi Handi should be celebrated as usual.
With inputs from ANI
-end-