Plastic Ban Maharashtra: All developments from ban till date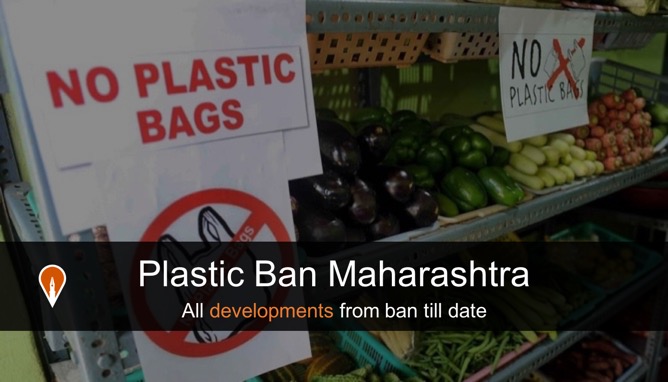 In the week since the Maharashtra government notified its decision to ban the use and manufacturing of plastic and thermocol products in the state, everyone from citizens to vendors, civic bodies to manufacturers have been impacted by it.
Citizen's speak
Unlike most decisions, which meet with its share of support and criticisms, citizens have wholeheartedly supported the decision to ban the use of plastic in the state.
"For the first time, it feels like the government may be actually be able to crack down and stop the use of plastic bags and other such items in the city and state. There is no doubt that the decision is a step in the right direction," said Abhishek Nalavde from Powai.
Many also felt that the temporary inconvenience was a small price to pay for the greater good.
"Like the government, the citizens should also do all they can to support the ban. Carrying an extra cloth bag for food, paying a rupee more for bottles and a few extra bucks for food served in eco-friendly containers is a small price to pay for the environment," said Sakshi Bansal.
Environmentalists, who have been pushing for the ban since long, are also elated with the decision.
"I laud the government for this brave step. It was long overdue. I am confident that the ban will have a positive effect on the environment. Citizens will also benefit from healthier surroundings and less water clogged roads," said environmentalist and activist Ajay Shukla.
Roadside vendors say no to plastic bags
While some continue to flout norms, a majority of roadside vendors in areas like Dadar, Parel, Mahim, Andheri, Goregaon, Mulund and Bandra among others have stopped giving plastic bags to customers to avoid penalties.
Most have started wrapping fruits and vegetables in paper bags or newspapers as an interim solution until customers get used to carrying their own cloth bags. Egg sellers have also switched to paper pouches.
"BMC officials told us that the fine for the first violation itself is Rs 5,000. No one wants to take a risk and face such a hefty fine. Hence most of us have stopped using plastic bags altogether," Subhash Mhatre, a vegetable seller from Dadar told Local Press Co.
While some complained about the loss of business, they were certain that the fluctuation is temporary.
"Many of my customers purchase vegetables on their way back home from work. But due to lack of bags, they did buy anything in the first few days. However, people have already started getting used to carrying their own bags. Things should be back to normal once everyone realises that no vendor will be in a position to give out plastic bags anymore," said Arvind Singh from Mahim.
Many vendors also collected cloth bags, which they gave out to some of their regular customers to avoid inconveniencing them.
"I collected 10-12 bags beforehand and gave them to my regular customers so that they don't get inconvenienced. Some have already returned those bags to me and have started carrying their own now," said Achint Nalvade from Bandra.
Some vendors, delivery kitchens affected more
Although most food-related vendors were inconvenienced due to the ban, some were affected a lot more than others.
Among them were many small roadside juice vendors that only served juices in plastic cups, which have now been banned. As a result, they have had to switch to glasses, which require a thorough cleaning after use.
Unfortunately, many customers also turn away after noticing the glasses, which are considered more unhygienic due to the water in which they're washed.
Similarly, delivery kitchens are in a fix as the containers used for serving food along with the accompanying plastic cutlery have been banned.
"We used bio-degradable plastic containers for serving many of our items. However, the government has banned even those as they are categorised under single-use plastic items," said Savin Shetty, who owns two delivery kitchens in BKC.
While some items can be packed in different containers easily, Shetty said, there are almost no viable alternatives to store and deliver items like gravies and soups.
"If we were given even a few weeks notice, we could have found an alternative and seamlessly transitioned to it. Now, we will have to purchase different containers and use them on a trial and error basis, which may not bode well with customers," he added.
Another restauranter from Lower Parel, who also delivers food, said that they were having trouble using cloth or paper bags as customers opted to keep them instead of returning them.
"Soon, we will have no option but to include the price of the bag in the cost," he said.
According to Indian Hotel and Restaurant Association (AHAR) president Santosh Shetty, the cost of packaging may also be passed on to the customer in some cases as affected establishments simply didn't get time to search for viable replacements and will most likely be left with no option but to embrace more expensive packaging alternatives.
Civic officials increase vigilance
Since last week, BMC officials have increased vigilance and are making multiple rounds to check for violations and inform vendors about the new ban. Surprise checks were made at almost all major vegetable markets.
While the new fines will only come into effect after the one month grace period is over, officials continue to penalise vendors who were giving out plastic bags less than 50 microns thick per the existing law.
Earlier this week, officials from K-West ward fined several eateries that were using plastic bags less than 50 microns thick. The civic officials have also warned violators of stringent action after the grace period is over.
A similar drive was conducted in other areas like Mulund, where another eatery was fined for the same reason.
Doubts over the collection of fines
While notifying the ban, the state government announced that violators will face a penalty of Rs 5,000 and Rs 10,000 for first and second offence respectively. The third offence will lead to a fine of Rs 25,000 and a three-month jail term.
The actual notification itself, however, does not list the penalties, which raised concerns over the collection of fines.
State Environment Minister Ramdas Kadam later addressed the concerns and clarified that the fines will be levied as per the amended Maharashtra Non-Bio degradable Garbage Act, 2006.
As a result, each civic body in the state will have to formulate bylaws which will list the fines and explain how they will be collected. They will also have to devise a mechanism to track repeat offenders to ensure they are fined correctly for subsequent violations.
Further, the state had also asked the civic bodies to set up collection centres where citizens could come and dispose any existing plastic items.
The local bodies will have to draft a plan for the same to ensure they're accessible to all citizens and hire contractors to recycle the collected material.
BMC formulates plan
To ensure its employees don't misuse the ban to collect bribes, Mumbai's civic body has laid down strict guidelines for its employees. The steps were decided after a meeting between civic chief Ajoy Mehta and senior BMC officials.
According to the guidelines, the civic body will form special teams to inspect premises after a month and take action against violators. The names of concerned officials along with their designated areas of inspection will be put up online.
They will also be given special uniforms, which will display their names, and I-cards.
To collect plastic bags for recycling, the BMC has decided to set up 20 centres near big markets across the city.
Additionally, to encourage the use of paper and cloth bags, it will put up details about their vendors on its website.
Manufacturers' associations cry foul
Maharashtra Plastic Manufacturers Association has slammed the government for excluding plastic packaging of potato chips and tetra packs used by multinational companies from the ban.
Calling the practice discriminatory, the association has warned that such exclusions may be harmful for small businesses.
Meanwhile, Federation of Retail Traders Welfare Association (FRTWA) has asked the government to exclude bags used to maintain the quality and freshness of food items as they are used to preserve and protect the material.
Earlier, plastic manufacturers in Maharashtra had asked the government to overturn the blanket ban citing the closure of thousands of related units, which directly employed nearly two lakh people.
However, Kadam dismissed the figures stating that 80 percent of plastic consumed in Maharashtra is manufactured in other states.
He added that manufacturers were given notice about the impending ban in January to ensure they have adequate time to dispose of their stock and make necessary changes in their business.
Loss of revenue for Maharashtra
All India Plastics Manufacturers' Association (AIPMA) has claimed that the plastic ban in the state would result in the closure of over 2,150 manufacturing units, leading to a revenue loss of around Rs 8,400 crore and GST loss of Rs 800 crore.
According to Federation of Indian Chambers of Commerce and Industry (FICCI), the plastic sector in Maharashtra accounts for roughly 35 percent of the state's GDP. The annual turnover of the plastic products alone is worth over Rs 50,000 crore.
"The MSME and SME segment are have already been impacted by GST and demonetisation and now the ban is expected to cripple their business further. About 2,150 units industrial units may be closed down due to the ban. The banned products alone would be about Rs 5,000 crore," AIPMA president Hiten Bheda told reporters.
The association further claimed the industry employed around four lakh people and is becoming increasingly important for facilitating sound infrastructure in a sustainable manner.
It, therefore, implored that the government and plastics industry come together to tackle waste management in the state as opposed to imposing a blanket ban.
Plastic ban to likely be challenged in court
For the first time, the state banned the manufacture of plastic items along with their use, which is expected to drastically impact the thriving plastic industry in the state.
AIPMA has therefore sought a detailed environmental impact assessment (EIA) study to ascertain the impact of plastic goods, and its alternatives, on the environment.
The study, according to AIPMA president, will provide a scientific basis to the argument that plastic is not harmful to the environment when handled correctly.
The association, which has strongly opposed the ban, has made it clear that it will wait for a few days to see if the government will change the notification. In the event that no change is made, it will challenge the ban in the court of law.
CM says no to revoking the ban
Meanwhile, Maharashtra Chief Minister Devendra Fadnavis has rejected the demand for revoking the ban on plastic items but added that the government was willing to address genuine concerns of the plastic manufacturing industry.
Fadnavis said a cabinet sub-committee headed by Environment Minister Ramdas Kadam would be directed to engage with plastic industry stake-holders to find a working solution.
The chief minister added that discussions had been held with the plastic industry stakeholders in the last six months and more engagement would be done to ensure they do not suffer because of the ban.