Rs 1.5 crore looted from SBI cash van in Dharavi, 2 thieves caught on CCTV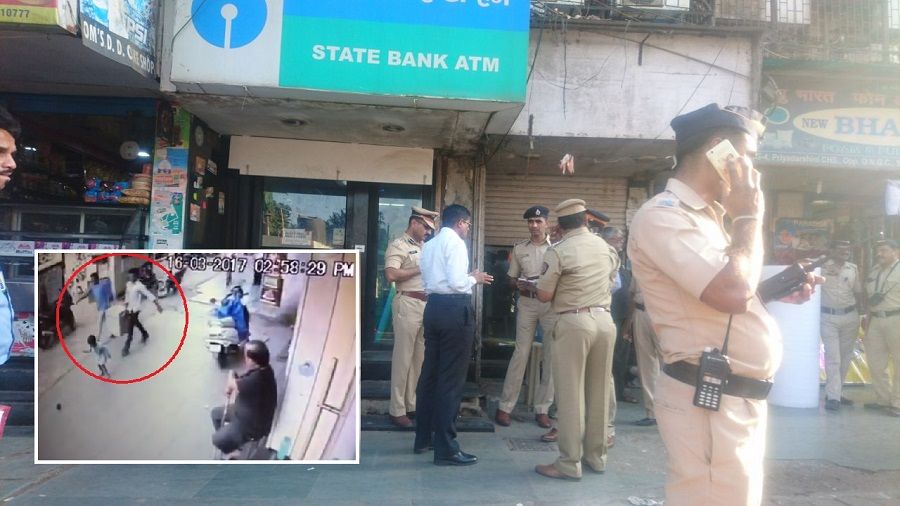 Police are on the lookout for four persons who allegedly looted Rs 1.5 crore from a State Bank of India (SBI) cash van in Dharavi, Mumbai on Thursday afternoon.
According to preliminary information, the incident took place between 2 and 3 pm today near the SBI ATM at Sant Rohidas Marg, opposite ONGC, in Dharavi. The cash van had come at the spot to refill the SBI ATM.
While the van was parked, with the back gate facing the ATM, and staffers were removing cash, four persons managed to steal a box containing Rs 1.53 crore in cash.
Two of the accused were even caught on a nearby CCTV camera while making a run with the cash box.
Cops were quickly alerted about the theft, following which Dharavi police registered a case against the unidentified persons under relevant sections of the Indian Penal Code and launched a manhunt to nab them.
Further details about the incident are awaited.
CCTV footage in which two of the accused were caught running with the cash box:
पाहा व्हिडिओः मुंबईतील धारावीत एटीएमच्या कॅशवर चोरट्यांचा डल्ला. दीड कोटीची रोकड लुटली. ओएनजीसी जंक्शनची घटना.#Mumbai #Dharavi #ATM pic.twitter.com/FqPwe9Abm5

— maharashtratimes.com (@mataonline) March 16, 2017
This report has been covered in a shortened or 'Snippet' format to ensure the most important piece of information is relayed in the shortest possible time. If the story develops further or more relevant information becomes available, we will expand it into a full length article.