Section 144 imposed in South Mumbai ahead of Sharad Pawar's visit to ED office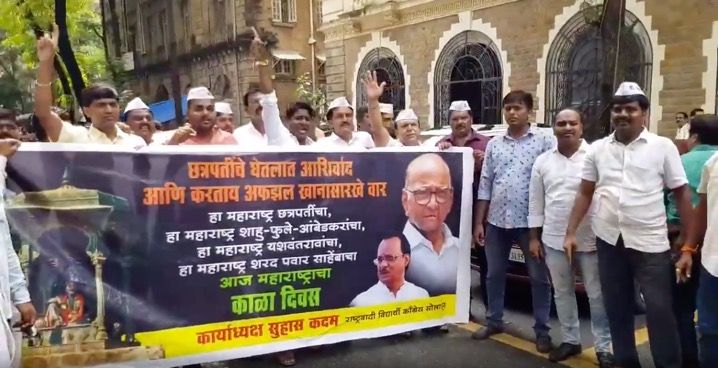 The Mumbai Police has imposed section 144 in South Mumbai ahead of Nationalist Congress Party (NCP) chief Sharad Pawar's visit to Enforcement Directorate's (ED) office on Friday in connection with a money laundering case.
A large number of policemen have been deployed in the area and roads leading to the ED's office in Ballard Estate have been closed to prevent any untoward incidents.
Some key routes in the area like S S Ram Ghulam Road, Karimbhoy Road, and J N Hardiya Road have been closed for traffic.
Earlier this week, NCP workers had staged protests after Sharad Pawar along with party leader Ajit Pawar and others were named in an Enforcement Case Information Report (ECIR) in Rs 25,000 crore Maharashtra State Co-operative Bank (MSCB) scam case.
Anticipating similar protest, the police imposed section 144 (preventing unlawful assembly) of the CrPC. The section is applicable in areas under the jurisdictions of Cuffe Parade, Colaba, Marine Drive, Azad Maidan, Dongri, J.J. Marg and MRA Marg police stations.
"We are well equipped to take care of any eventuality. Section 144 is in place in the whole area. We have taken sufficient precautions. If any violation occurs, we are well equipped to handle that," said DCP Sangram Singh Nishandar, DCP Zone 1.
#WATCH Mumbai Police uses drone for security surveillance at Ballard Estate where Section 144 is imposed. NCP Chief Sharad Pawar will visit ED office today for their investigation in the money laundering case in which he has been named. pic.twitter.com/ttWA4wf33h

— ANI (@ANI) September 27, 2019
Meanwhile, NCP spokesperson Nawab Malik alleged that police have started detaining workers ahead of Pawar's visit.
"Honourable Pawar Saheb will visit ED office at 2 pm. Workers will be present in big number in his support. But the police started detaining workers since yesterday night. We are people who believe in law and order. This suppression is not right," he said.
Although the ED is yet to summon the NCP patriarch, the veteran leader has already said he would "voluntarily" visit the ED office and co-operate with the probe agency given his faith in the Constitution.
On his part, the Pawar senior has maintained that he was not associated with the bank in any capacity. He has also appealed to the party leaders and supporters not to gather outside the agency's premises.
"Keeping our tradition to honour the constitution and respect for institutions, I request your co-operation to the police and other government agencies," he stated.
Given that ED's action against the Pawars comes days ahead of the October 21 Maharashtra Assembly elections, several opposition parties have deemed it 'politically motivated' and slammed the move.