Service cancellations on Mumbai's Central Railway up 12 times due to rail roko protests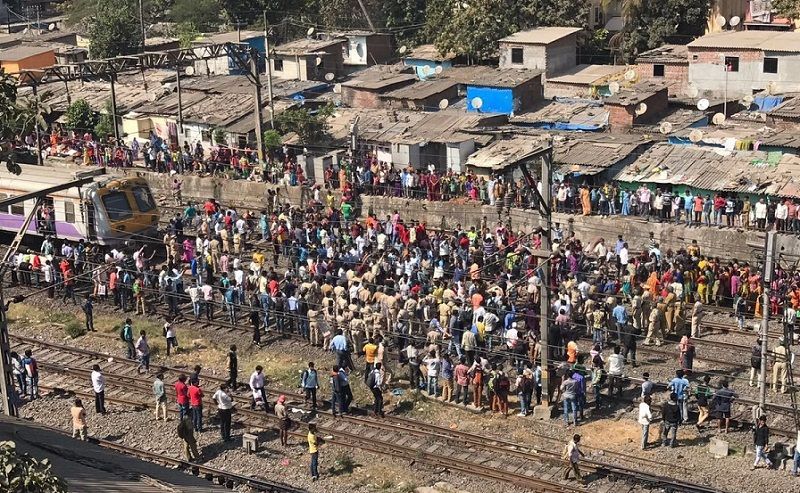 The number of service cancellations and delays on Central Railway's suburban rail network have increased multifold in the past few months, thanks to the rise in the number of rail roko protests.
The statistics have come to light in the wake of Monday's rail roko between Airoli and Thane stations, when an angry mob had taken to the tracks to protest against the recent slum demolition carried out by the Thane Municipal Corporation (TMC).
According to statistics, the number of services cancelled on CR due to public protests has increased 12 times in the last ten months.
Between April 2016 to January 2017, a total of 139 services were cancelled due to rail roko or public protests. In comparison, only 11 services had been cancelled in the corresponding period last year.
The protests have also had a cascading effect on the network's overall punctuality. As a result, over 275 services were delayed in the period, in comparison to the 98 that were cancelled between April 2015 to January 2016.
"Rail roko protests have affected the overall punctuality of the services to a great extent. Even regular commuters, for no fault of their own, have been impacted by such protests," a senior CR official told Local Press Co on the condition of anonymity.
"Other factors such as level crossing gates, trespassing, signal failure etc also play a role. However, we are already doing our best to minimize delays due to infrastructure issues. Such protests add more burden on the network and are avoidable," he added.
Railway authorities, taking cognisance of the rise in number of protests, have increased security around stations and ordered strict action against those disrupting rail services.
Even after Monday's protest, Thane RPF arrested 26 persons, including 24 women, and booked them under sections 147 (trespassing and refusal to desist from trespassing) and 174 (a) (obstructing the running of a train) of the Railway Act.
Apart from this week's protest, CR has seen four major agitations and several smaller ones since August last year. The major ones were at Badlapur in August 2016, at Titwala in December 2016, another one in Titwala in January 2017 and one in Dombivali in the same month.