Shocking video shows kid's miraculous escape after being run over by lady in Ghatkopar, debate ensues over who is to blame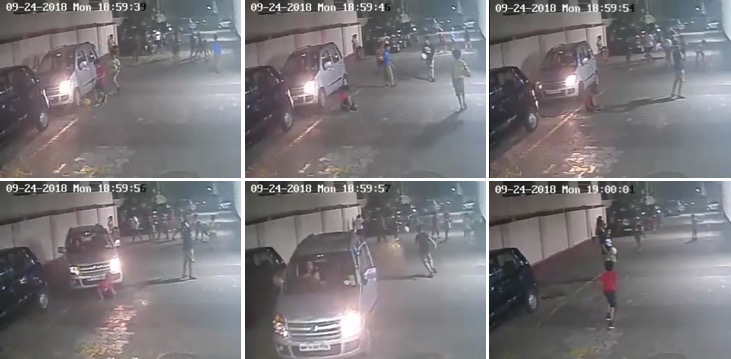 A CCTV footage showing a kid's miraculous escape after being run over by a lady in Mumbai's Ghatkopar area is going viral on social media. Although the kid escaped unharmed, the video has sparked a debate over who was at fault.
About the video:
The video, a CCTV footage, starts off with two kids playing football while a lady enters her car, a Maruti Wagon R.
While one kid veers off with the ball, the other (in the red t-shirt) sits down to tie his shoelaces. The lady, meanwhile, reverses her car and leaves the premises without realising that she inadvertently ran over someone.
The kid, thanks to the high ground clearance of the car, does not sustain any injuries. He can be seen getting up and rejoining the group.

The footage was captured around 7 pm on Monday, September 24 from a CCTV camera installed in a housing society at Kamraj Nagar in Ghatkopar.
No action has been taken against the driver as of publishing this report.
Debate ensues over who is to blame
The video drew sharp reactions from netizens after it started doing rounds of social media platforms last night, with some blaming the lady's callous driving and while others noting irresponsible behaviour on the part of the kid and his parents.
Arguments against the driver include her failure to check her surroundings before setting off and ignoring the bump she would have felt after hitting the kid.
"Seriously very careless lady… and ladies don't know how to drive … after taking reversed person seating on a driver seat can easily view who is there in the front… but she didn't see that just tool reserved and went thank god nothing much happened to the child … but caution needs to be taken while driving," noted Bhupendra Chavan.
While the argument about 'ladies don't know how to drive' did not resonate well with most, many agreed that she drove irresponsibly.
"The lady did not see it means she's not a perfect driver and I think people forget driving instructions from RTO's … The rule is driver must see the front, back, and both side mirrors before moving," noted Sheikh Muhammad Jaweed.
Incidentally, Jaweed also pointed out that the front passenger-side door of the car was not closed properly and flung open when the car gained speed.
Meanwhile, others pointed out that the lady wasn't at fault as the kid was sitting on the road likely not visible from her seat.
"Kids should be taught to be careful while playing on the road. A small kid or the one who's sitting down is not visible from the driver's seat," argued Komal Mathur.
Some also blamed the kid's parents for negligence.
"I would want the parents of the child to be prosecuted too for their negligence in exposing their child to danger by not ensuring that the child is kept in a safe place and not on the road," said Trevor Pinto.
There were also those who acknowledged that both parties were at fault.
"Wagon R is a car which has a tall boy design so it is not easy to really see kids, especially those who are sitting down and doing something. You must always check your surroundings first before you decide to take it out. Also did she not feel any sort of bump when the car hit the kid," stated Pranay Premkumar.