Shruti Ulfat of 'Nagarjuna' fame arrested for posing with live cobra, posting video on social media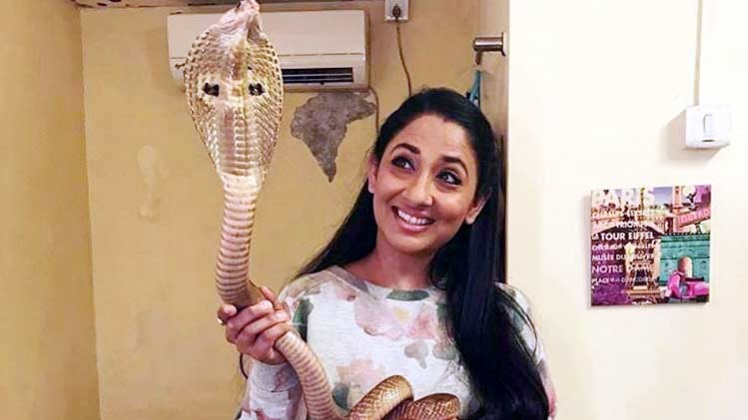 Thane Forest Department arrested popular actress Shruti Ulfat of 'Nagarjuna-Ek Yoddha' fame on Wednesday, four months after she posted an video with a live cobra on social media.
The video subsequently went viral on social networking sites, attracting the attention of countless wildlife activists.
In the clip, posted on Instagram on October 17, Shruti had posed with the live snake coiled around her neck and hand.
The reptile in the video, an Indian spectacled cobra, is protected under Wildlife Protection Act, 1972, implying that it is an offence to shoot or post pictures with it.
After the video surfaced, several animal activists lodged complaints against Shruti and the show's makers. The cobra had been brought in for the shooting of 'Nagarjuna – Ek Yoddha', which is based on Naag Lok of Hindu mythology.
Thane Forest department, acting on the complaints, arrested the actress along with actor Pearl Puri and producers Utkarsh Bali and Nitin Solanki. All four were produced before the Borivli Court and remanded to the custody of Thane forest range.
Range Forest Officer (RFO), Santosh Kank, confirmed the arrest under sections 9, 39, 48 (a) and 51 of the Wildlife Protection Act.
The showrunners had earlier claimed that the team had used special effects to shoot the scene. However, department sent the video Forensic lab for testing, whose report confirmed that a real cobra had been used.
The department is now investigating as to who caught and supplied the cobra to the team and whether it amounts to hunting and capturing a protected species.
Activists, meanwhile, maintain that such acts will promote capturing snakes and making such videos. It will also encourage those who make a living out of illegally supplying these species for shooting.
Prior to this show, Shruti had appeared in films like Yeh Hai Mumbai Meri Jaan, Raaz and Aetbaar.
Video:
Ths is d video that got Shruti Ulfat in trouble nd angered animal activists who complained 2 forest dept @PAWSMumbai @RAWW_TWEETS @dna pic.twitter.com/FBdAwfTXFU

— Virat A Singh (@singhvirat246) February 8, 2017