Speeding car rams into railing on Eastern Freeway, DCP rescues injured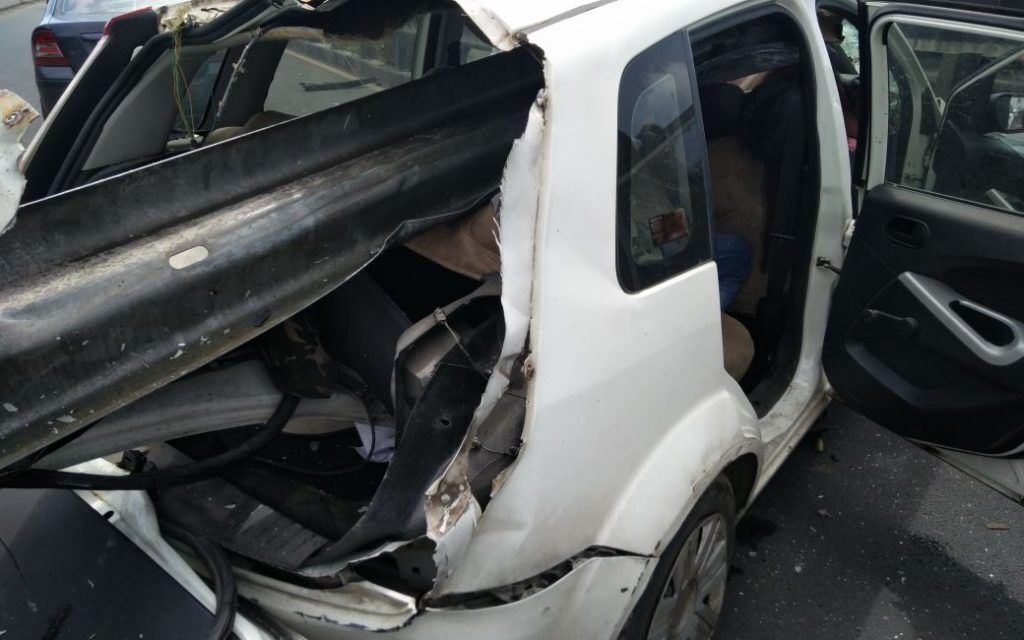 A major accident involving a private vehicle has been reported on the Eastern Freeway on Thursday afternoon.
The incident occurred around 3 pm when a white colored Ford Figo rammed into the side railing of the eastern freeway. The accident took place near Wadala (pole 264) on the southbound lane towards Chembur.
According to preliminary information, the vehicle is believed to have been speeding.
As of 3:15 pm, there is no update on casualties.
Traffic police are currently on the spot, trying to divert the traffic via the other lane. Towing vehicle has been called for, but has not reached the spot.
Further details are awaited.
Update: Mumbai Police DCP Ashok Dudhe came across the injured passengers while he was travelling via the freeway. Dudhe immediately helped the passengers out of the car and rushed them to JJ hospital. Both victims are in a critical condition and their identity is currently unknown.
Update: Sources claim that the accident occurred while the car was travelling at upwards of 100 kmph. It is speculated that the driver lost control of the vehicle due to speeding, but the exact cause is still unknown. Even a traffic official who reached the spot post the accident had difficulty explaining how the a 15 ft piece of metal penetrated through the entire car.
Update: The injured passengers have been identified as Nafeez Khan and Azgar Ali Khan. There was a third passenger in the car who did not suffer any major injuries. Both Nafeez and Azgar are still recuperating at JJ hospital. Wadala police has registered a case against the driver, Nafeez, for rash driving. One report claims that Nafeez was driving while talking on the cellphone when he lost control of the vehicle and rammed into the railing.
** Graphic Images
ईस्टर्न फ्रीवे पर भीषण कार हादसा@MumbaiPolice के DCP अशोक दूधे ने घटना देख फौरन जख्मी की जान बचाई_लोग तमाशबीन बने pic.twitter.com/zl56xHev7E

— Ravish Sharma (@ravishjourno) August 25, 2016
-end-