Speeding dumper falls 35ft from Sion-Panvel flyover, 4 injured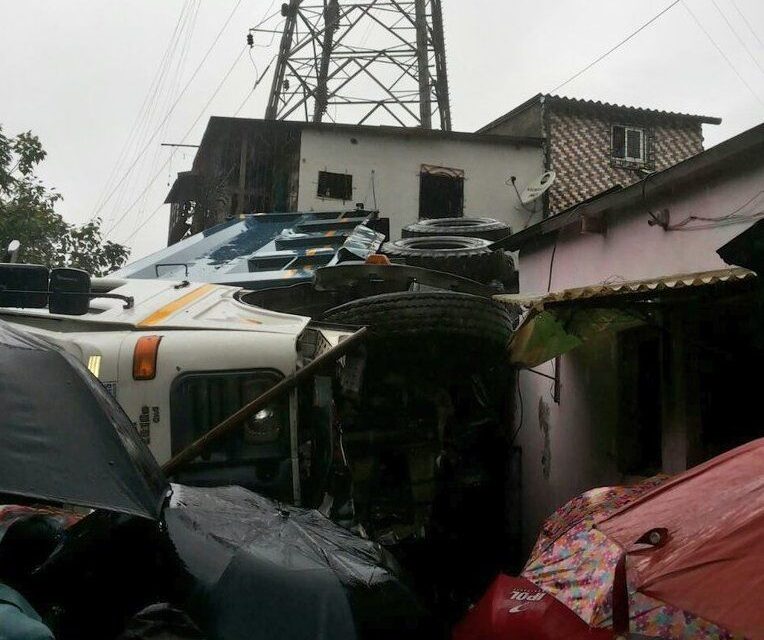 Four people, including an infant, were injured after a speeding dumper lorry hit the sidewall of the Sion-Panvel flyover and plunged 35 feet below during the wee hours of Saturday. The lorry was enroute Vashi from Mumbai.
The incident occurred around 3:30 am on Saturday, when the driver of the speeding lorry lost control of the vehicle and rammed into the flyover's sidewall. The wall gave in due to the impact and the dumper fell 35 feet below on two shanties at Jai Hind Nagar, Mankhurd.
The loud noise woke everyone from the area, including Ravi Pathare, the owner of one of the settlements. His daughters were sleeping in the adjacent room which was damaged by the dumper's fall.
Pathare, along with some of their neighbours, immediately removed the debris and rescued his daughters, Tarana (10) and Roxy (9-month-old). Both were freed after a struggle of 10-15 minutes.
The driver Sanjay Paswan (33) and cleaner Dharmendra Prajapati (30) were also injured and stuck inside the truck. But locals managed to free them after a few minutes.
All four injured were rushed to Rajawadi Hospital in Ghatkopar, where they are currently recuperating. As of now, there is no indication that the driver was drunk at the time of the accident.
The accident left a 20 feet wide gap in the flyover's wall. A traffic police official said that the wall might be repaired after monsoon, but meanwhile temporary arrangements will be made to ensure vehicles steer clear of the opening.