State Cabinet approves MUTP-3A: Rail infra projects worth Rs 55,000 crore move closer to execution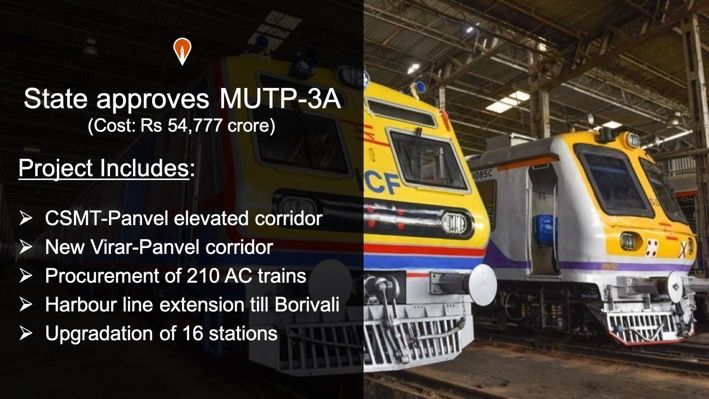 The near Rs 55,000 crore Mumbai Urban Transport Project 3A (MUTP-3A), which entails several big-ticket rail infrastructure projects, moved one step closer to implementation following a nod by the State Cabinet on Wednesday.
Some of the major projects covered under MUTP-3A include CSMT-Panvel elevated fast corridor (Rs 12,331 crore), the new Virar-Panvel corridor (Rs 7089 crore) and the procurement of 210 air-conditioned EMUs (Rs 17,374 crore).
With the cabinet nod in place, the proposal will now be sent to Railway Board and Niti Aayog. Following an Extended Board Review, it will be placed before the Cabinet Committee of Economic Affairs (CCEA) for final approval.
The state also issued a Government Resolution (GR) pertaining to the relocation and rehabilitation of people affected by the project, which will be done on the lines of earlier MUTP projects.
As far as funding is concerned, Mumbai Railway Vikas Corporation (MRVC) – the nodal agency of the project – will raise around Rs 14,000 crore through loans from banking institutions.
MRVC is expected to approach a consortium of banks, including the New Development Bank (NDB) and the Asian Development Bank for the loan. The remaining cost will be shared between Indian Railways and the Maharashtra Government on a 50:50 basis.
The MUTP-3A also includes the extension of Harbour line between Goregaon and Borivli, implementation of new Communications-Based Train Control (CBTC) signalling system, introduction of two more lines between Borivali and Virar and the upgradation & modernisation of 16 suburban stations.
Big boost for Mumbai railway infra. Funding for Mumbai Urban Transport Project 3A approved. Includes crucial projects like Harbour fast corridor, cab signals, more rail corridors & lot many AC local trains. Good co-ordination between @PiyushGoyal and @Dev_Fadnavis Details here: pic.twitter.com/SyBxn5lV6H

— Rajendra B. Aklekar (@rajtoday) December 5, 2018