Supporters put up 'Dr. Babasaheb Ambedkar Terminus' label at Dadar station, press for renaming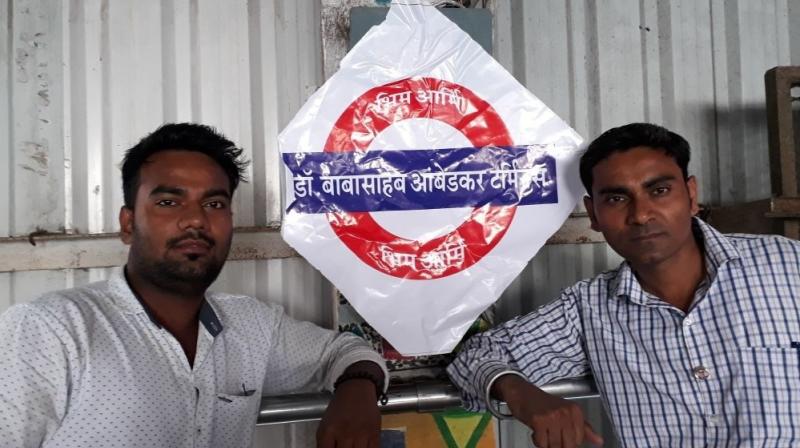 Many were left confused on Wednesday after an image depicting 'Dr. Babasaheb Ambedkar Terminus' signboard at Dadar station started doing rounds on the internet.
The image later turned out to be a temporary label pasted on top of the existing signboard at Dadar by workers of the newly-formed Bhim Army, which has demanded that the station be renamed after Dr. Ambedkar.
The acitivists had reportedly put up the posters around noon on the signboad at platform 6, which is used by outstation trains.
"We have been demanding the renaming of Dadar station since long, but the process is getting delayed. Dr. Ambedkar had his home here. His 'Rajgraha' is in Dadar. We do not want to harm anybody's sentiments through this activity but want to convey this message to the government," Mahadu Pawar, spokesperson of the Bhim Army Mahrashtra was quoted saying.
The party said that it has even communicated their demand to Union Railway Minister Piyush Goyal, but to no avail.
Incidentally, this was not the first time supporters have demanded that Dadar be renamed as Chaityabhoomi or Dr. Babasaheb Ambedkar Terminus. Back in 2013, a signature campaign had also been organised to press for the demand.
Meanwhile, officials from both Central and Western railway said no one had approached them to take permission for putting up anything in the railway premises.
Even the poster put up at Platform 6 had been removed by the time officials checked it in the evening.
Thousands of Ambedkar followers had come to visit Chaityabhoomi in Dadar on Wednesday to pay homage to the 'Father Of Indian Constitution' on his 61st death anniversary.