Tanushree Dutta facing defamation case for comments on Raj Thackeray, legal notice from Nana Patekar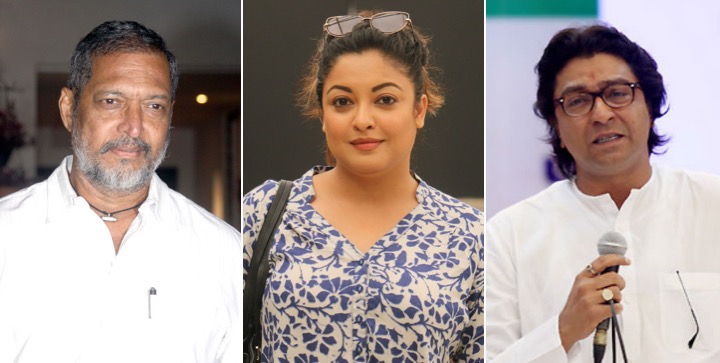 Actor Tanushree Dutta is facing a defamation case and two legal notices in the backdrop of her comments against MNS chief Raj Thackeray and sexual harassment allegations against veteran actor Nana Patekar.
A non-cognisable offence complaint has been filed against Tanushree for allegedly defaming the Maharashtra Navnirman Sena (MNS) chief and his party.
The complaint was filed by MNS district unit president Sumant Dhas at Kaij police station in Beed district of Maharashtra.
"We have registered a case of non-cognizable offense under Section 500 (defamation) of the IPC against Tanushree and investigation is underway," one of the officials was quoted as saying.
Tanushree had earlier accused Nana Patekar of harassing her, sending shockwaves across the nation. The actress claimed that the veteran actor had tried to get too close to her during a dance step for one of the songs in the 2008 film 'Horn OK Pleassss'.
The 'Dhol' actor also claimed that MNS party workers were involved in the attack on her car after she opted out of the film following the alleged harassment by Patekar.
Soon, an old video of Tanushree's car being attacked by goons started going viral. However, MNS denied any involvement in the matter.
Later, in one of her interviews, she stated that Raj Thackeray wanted to succeed late Bal Thackeray as the Shiv Sena chief, but was unsuccessful in doing so.
The 34-year-old also pulled up MNS for its disruptive ideology.
"MNS is not just a party but an ideology like Al-Qaeda or ISIS, they are a violent disruptive communal, intolerant ideology and anyone from any profession can pledge allegiance to it," she said in her statement earlier this week.
The statement, needless to say, irked party workers and supporters of the MNS supremo.
In retaliation, MNS workers visited the set of Bigg Boss on Wednesday and threatened the makers with 'violence' if Tanushree – who was reportedly in consideration to enter the house as a wild card contestant – was cast in the show.
The actress also alleged that she was threatened by MNS and that two persons tried to enter her house, following which she was given police protection.
Meanwhile, on Thursday, Tanushree confirmed that she had received two legal notices, one each from Nana Patekar and filmmaker Vivek Agnihotri.
"This is the price you pay for speaking out against harassment, humiliation, and injustice in India," she told ANI.
"I'm being threatened to be dragged into the court and legal system of India, which we all know can keep a woman and her supporters as well as media silent on the pretext of "matter is subjudice" but can also further be used to harass her and drain her out financially. 'Tareek pe Tareek pe tareek' and the dawn of justice never arrives and her whole life goes waste, awaiting justice while witnesses are intimidated, discredited or simply drained of their will to stand up," she told reporters.