Uber drivers call off strike, all app-based cabs to ply in Mumbai from tomorrow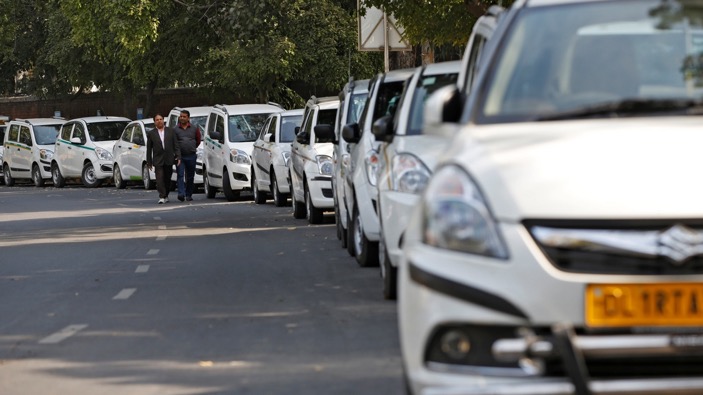 After four days of protests, MNS union called off the strike of Uber drivers on Thursday evening after a meeting with company officials. Ola drivers had ended their strike on Wednesday evening.
Maharashtra Navnirman Vahtuk Sena, the transport wing of the Maharashtra Navnirman Sena (MNS), had called an indefinite strike from Monday on the grounds that several drivers were not being able to cover costs due to falling business.
The union called off their strike for Uber drivers today after meeting senior officials from the company. Uber drivers are expected to start plying on city roads from tonight, although most will likely resume services tomorrow morning.
Claiming "victory" for the "owner-operators" of Uber cabs in Mumbai and other places, the MNS, in a statement here this evening, said the Uber management, during their talks with the police and the wing's representatives earlier in the day, has given a written commitment on meeting the various demands.
These include a relook at drivers blacklisted by the taxi aggregator and putting up stickers in Marathi on Uber cabs, the statement said.
An Uber spokesperson, in a separate statement, confirmed that the strike had been called off with immediate effect.
MNS transport wing president Sanjay Naik told PTI, "Like Ola, Uber has also assured us that the company will look into ways to increase earnings of the Uber driver-partners".
Reason for the strike:
The union had earlier alleged that drivers are unable to cover their costs due to falling revenues and that Ola/Uber give preference to company-owned cabs over driver-owned taxis.
"Ola and Uber had given big assurances to the drivers, but today they are unable to cover their costs. They have invested Rs 5-7 lakh and were expecting to make Rs 1.5 lakh a month. But drivers are unable to make even half of this because of the mismanagement by these companies," Naik had told PTI earlier.
Of the 45,000 such cabs in Mumbai, nearly 20 percent have stopped plying due to a slump in business. Further, the MNS leader claimed that more than 90 percent of all remaining cabs had participated in the strike and stayed off roads.
The strike caused major inconvenience to commuters over the last four days as many had to opt for alternate means of travel due to higher wait times and exorbitant surge pricing.
To ensure law and order in the city, police had issued notices of section 149 of CrPC to MNS leaders Sanjay Naik, Arif Shaikh, and Nitin Nandgaokar as preventive action. The notices, however, did little to deter the leaders.
Nandgaokar, for one, was even caught on tape breaking the windshield of a private cab that was plying during the strike to dissuade others from following suit.
Overall, police have reportedly arrested at least 15 people since the start of this week for damaging private cars.