Video: Massive fire breaks out at godown near Chembur slum along Eastern Express Highway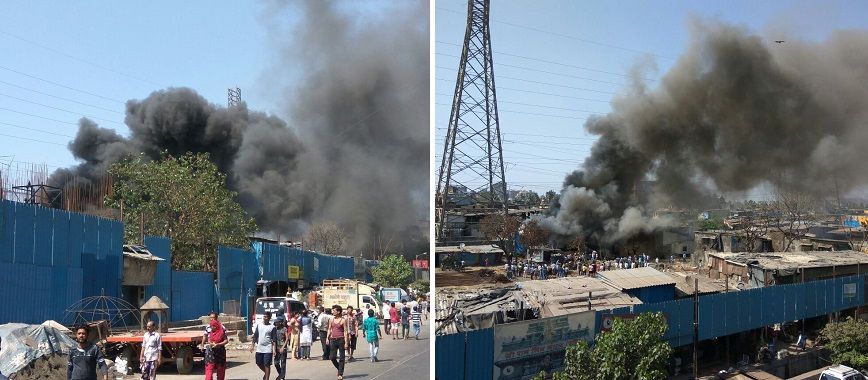 A massive fire broke out at a godown located amid the slums at Mumbai's Chembur area on Tuesday afternoon.
According to preliminary information, the fire broke out around 2 pm at a slipper factory godown situated inside the slums at Vatsala Tai Naik Nagar, along the Eastern Express Highway, in Chembur.
The fire department was alerted about the incident within minutes.
However around 2:30 pm, even before officials could reach the spot, it was escalated to a Level II fire, following which ten fire tenders, including six fire engines and four water tankers were dispatched to the spot.
However, it took the fire tenders close to an hour to reach the affected area and start firefighting due to overcrowding and lack of direct access.
As officials tried to douse the blaze, one ambulance reached the spot and local police started to evacuate the people living in the godown's vicinity. Even after an hour of fire fighting, the blaze could not be doused completely.
Meanwhile, panic broke out at the slums after dense smoke was seen billowing from some of the shanties that were gutted in the fire.
As of writing this, the cause of fire is not known as a statement from the fire department is awaited. Also, no casualties have been reported so far.
The blaze even affected the flow of traffic from Sion to Ghatkopar on the Eastern Express Highway. The situation, however, has improved post 5 pm.
Further details are awaited.
Video:
This report has been covered in a shortened or 'Snippet' format to ensure the most important piece of information is relayed in the shortest possible time. If the story develops further or more relevant information becomes available, we will expand it into a full length article.