Uddhav's insistence on Aaditya as CM delaying government formation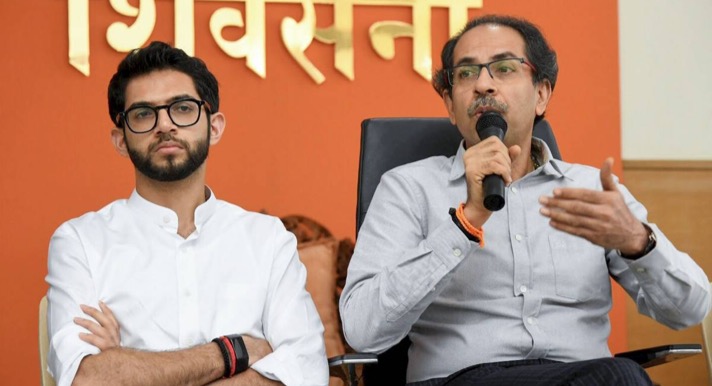 Shiv Sena president Uddhav Thackeray's insistence on son Aaditya helming affairs of the state as Chief Minister is one of the factors responsible for delaying government formation in Maharashtra, sources say.
The Sena, which recently parted ways with its three-decade-old ally BJP over the latter's refusal to share the CM post, is currently seeking support from NCP and Congress to form government in the state.
However, Uddhav's decision to push for his son's elevation has caused uneasiness in the NCP as most senior leaders are apprehensive of working with an inexperienced Aaditya, who won his first assembly election from Worli in 2019.
The NCP and its leaders, on the other hand, are willing to work with Uddhav.
"The first choice of the NCP supremo for the top job is Uddhav Thackeray. Pawar saheb believes that his (Uddhav) face will be acceptable to all. This is also necessary to bring stability in the government," an NCP functionary was quoted as saying.
The delaying of government formation in Maharashtra is not because of Congress but NCP chief Sharad Pawar "who is more apprehensive of the Sena than Congress", a top source told news agency IANS.
The NCP supremo rightly said that they have not discussed government formation with Sonia Gandhi, the source said, adding that Pawar is wary of ideological contradictions with the Sena and its style of functioning.
If a coalition government is formed, the Congress is likely to get the Speaker and Deputy CM posts in the government, while the NCP will get the Deputy CM post along with that of legislative council chairman.
All the three parties are likely to get the same share in the council of ministers, even as negotiations over the Home, Finance, Revenue, Housing, and Cooperatives portfolios are underway.
Congress' top brass, meanwhile, wants to finalise the Common Minimum Programme (CMP) before moving forward with an official announcement as it is apprehensive about the behaviour of 'ideologically opposite' Sena leaders.