Video: Chinese eatery staffer throws hot oil on customer in Ulhasnagar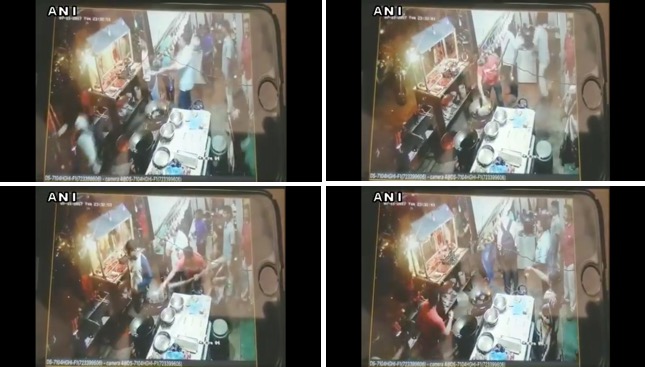 In a shocking incident, an employee of a local Chinese eatery threw hot oil on a customer following an argument over the food quality and bill amount in Ulhasnagar, Thane.
According to reports, the incident took place around midnight on Tuesday when the victim and his three friends visited Manoj Koliwada Fish & Chinese Corner located at Venus Chowk in Sector-25m of Ulhasnagar in Thane district.
During the course of their meal, Vicky complained about the food quality to the owner. Later, he got into a heated argument over the bill amount and tried to vandalise the food counter.
The scene, incidentally, was captured in the CCTV camera installed in the premises.
In the video, Vicky can be seen throwing an object at one of the waiters, who retaliates by flinging hot oil in his direction multiple times.
The 29-year-old and his friend suffered burn injuries upon coming in contact with the oil, following which they were rushed to Central Hospital for treatment. Vicky and his friend suffered burn injuries on their face and stomach respectively.
Meanwhile, Vitthalwadi police registered a complaint and began investigating the matter.
On the basis of the recovered CCTV footage, the police booked the owner and staffers under sections 323, 324, 504 and 34 of Indian Penal Code. Two of them have been arrested as of Thursday evening.
The owner of the eatery also filed a counter complaint against the victim, accusing him of abusing his staff and vandalising his stall.
The eatery also allows patrons to drink alcohol in the premises, although it is not clear if any of the patrons or staffers were drunk at the time of the incident.
#WATCH:Owner of a roadside eatery threw hot oil on a customer who complained about the food served, in Maharashtra's Ulhasnagar. 2 arrested pic.twitter.com/ypsfVKHRGn

— ANI (@ANI) November 9, 2017