Video: Kashmiri truckers mistaken for terrorists in Panvel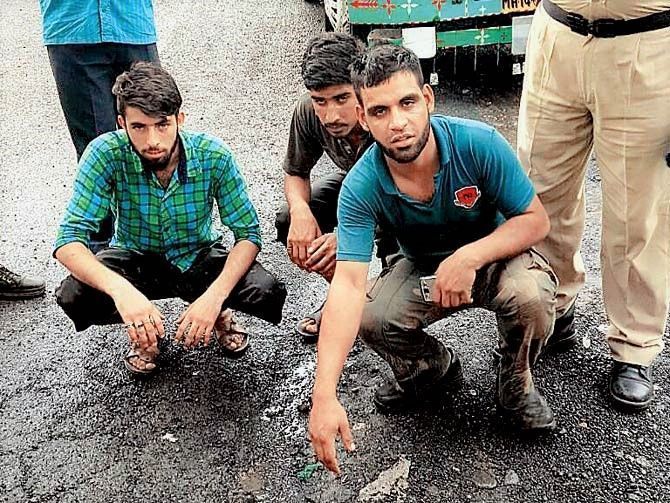 A trio of Kashmiris, sporting army-style fatigues, sparked panic among security agencies who detained them in Panvel town on Saturday afternoon. They were later allowed to go after the antecedents were checked.
The incident happened near Gavhanphata when the trio was found near a container truck wearing army type uniforms and Central Industrial Security Force (CISF) troopers, passing in a bus, accosted them.
The three were taken to the Panvel police station and thoroughly questioned, said Senior Police Inspector Sunil Bajare, and the truth finally emerged.
Explaining the military uniforms with them, the trio said they were former soldiers but were now working for a truck company and were on way to deliver a consignment.
Later, an official from the company arrived and vouched for their credentials after which they were permitted to leave.
Coming in the wake of the suspicious sightings by some school students in Uran in the district on Thursday, Saturday's incident, barely 30 km away in Panvel, rang alarm bells among the security agencies, but top police officials assured that there was no cause to worry.
Scotching off rumours, Navi Mumbai Police Commissioner Hemant Nagrale said that the persons were only truck labourers and all other speculation was fake.
The men, identified as Sakinder Mohammed Khan (24), Sohail Taraq (17), and Attalluha Abdul Khan (20), are residents of Poonch in Jammu and Kashmir.
Meanwhile, the local police continued their operation to trace out the unknown persons for the third day, but with no success, he said.
With IANS inputs