Video: Major fire breaks out in slums at Nargis Dutt Nagar near Bandra Reclamation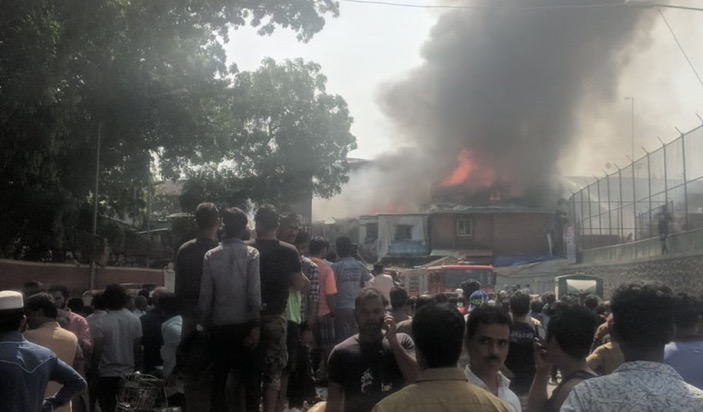 A major fire broke out in the slums at Nargis Dutt Nagar near Bandra Reclamation on Tuesday afternoon.
According to preliminary information, the blaze broke out around 11:15 am in one of the hutments at Nargis Dutt Nagar, located opposite Bandra Telephone Exchange under Reclamation in Bandra West.
Fire department was alerted about the mishap immediately after the incident and four fire tenders were initially rushed to the spot.
The fire was escalated to Level-III at 11:36 am, following which a total of nine fire engines and eight water tankers were pressed into service.
Despite being in the vicinity of a fire station, eye-witnesses said fire tenders faced some difficulty crossing the narrow lanes to reach the source of the blaze.
Fire-fighting operation is currently underway and a team of local police is also on the spot to control the crowd.
"Our staff and Fire Brigade is on the spot for assistance. They are trying their best to douse the fire and provide necessary help to people there," Mumbai police said.
No casualties have been reported so far. The exact cause of the fire is not known as of publishing this report, although eye-witnesses have cited multiple cylinder blasts as the reason. Further details are awaited.
Nargis Dutt Nagar is located close to the flyover connecting Bandra-Worli Sea Link and the Western Express Highway. The area is home to hundreds of illegal slums, which have witnessed several fire-related incidents in the past.
Video (via Mike Melli)