Video: Massive fire breaks out at store opposite Breach Candy hospital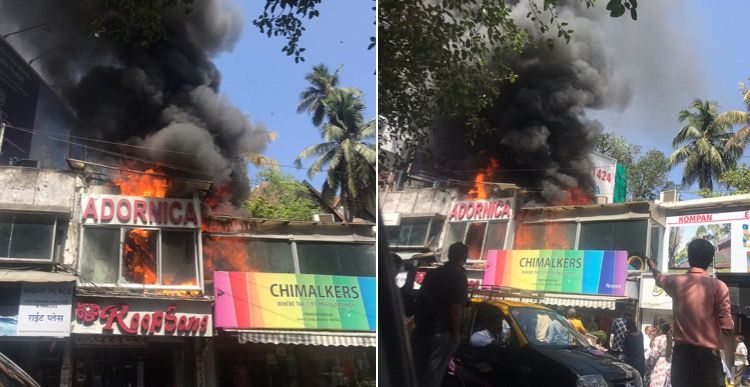 A massive fire broke out at a stationary and toy store in South Mumbai's Breach Candy area on Friday evening.
Details about the fire:
Location: According to preliminary information, the fire originated at 'Adornica' store located on the 1st floor of building number 63 on Bhulabhai Desai Road in Breach Candy. The store, which deals in toys and stationary, is located on top of Roopsons and next to Premsons, opposite Breach Candy Hospital.
Time: The mishap took place around 2:30 pm today, and the fire department was alerted immediately after.
Severity: Fire officials reached the spot with four fire engines initially and more are on the way. The fire has been classified as Level II.
Cause of fire: The exact cause of fire is not yet known as a confirmation from the fire department is awaited.
Casualties & damage: No casualties were reported in the incident. However, the entire first floor of the building was engulfed in flames and completely gutted within minutes. As a result, heavy monetary loss is estimated.
Current status: Fire fighting is still underway as of publishing this report. Meanwhile, traffic police are trying to control the large crowd that has gathered outside the store on the crowded street. Further details are awaited.
Update:
(5:30 pm) The blaze has been brought under control with the help of five fire tenders and after nearly two hours of fire fighting. Although no casualties were reported, at least three galas on the first floor have been completely gutted in the blaze. The incident, along with a non-functional signal near Kemps Corner, led to major traffic snarls in South Mumbai earlier today.
Video:
Earlier this month, a similar blaze had gutted an office at Nagdevi Cross Lane in Mumbai's Phydhonie area. The fire was brought under control with the help of 14 fire engines and 10 water tankers, and did not result in any casualties.
---
Related: Mumbai Fire Brigade spent Rs 59 crores on new firefighting equipment in last 3 years: RTI
---