Video: MNS workers dig road outside Mantralaya to 'solve' pothole problem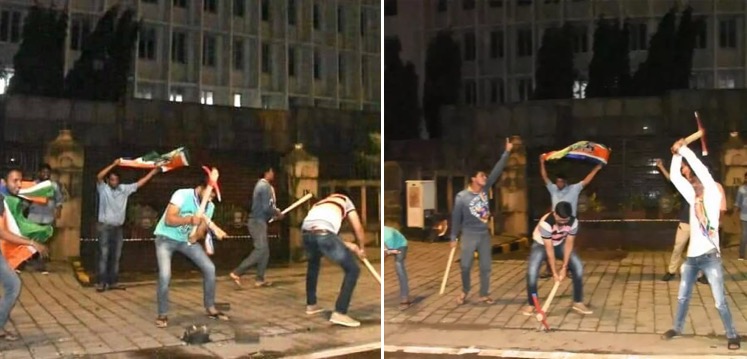 A day after vandalising PWD office in Navi Mumbai, workers of Raj Thackeray-led Maharashtra Navnirman Sena (MNS) dug up a pavement outside the Mantralaya, in the wee hours of Tuesday as a mark of protest against potholes on roads.
At least eight MNS workers were arrested in this connection, a senior police official said.
The men arrived at the state secretariat with tools and started digging the sidewalk while shouting anti-establishment slogans.
"A group of around 20 workers of the MNS gathered outside the Mantralaya around 3 am today and started digging up a footpath using spades and other tools to protest against the potholes on roads," he said.
The police staff posted on duty at the Mantralaya rushed towards the protesters and tried to stop them.
"All the MNS members present there were taken to the Marine Drive police station, where eight of them involved in digging up the footpath were arrested," Manojkumar Sharma, Deputy Commissioner of Police (Zone -I) said.
The accused were booked for damaging public property and unlawful assembly.
The incident comes a day after some MNS members attacked a government office in adjoining Navi Mumbai, to vent their ire over potholes dotting the 39-km stretch between Sion and Panvel.
"Rid Sion-Panvel highway of potholes. If people become victims of potholes, we will respond in MNS style," a party worker was quoted as saying.
Last week, MNS activists had forced a PWD official to do sit-ups on a pothole in Santacruz. Apart from the physical punishment, the activists had threatened the official and given an ultimatum of 48-hours to PWD to fix Mumbai's potholes.
Accidents on pothole-ridden roads have claimed five lives in Thane since last month. In the most recent case, a 27-year-old Sunny Vishwakarma lost his life when he fell from his bike after it hit a pothole near Sanpada on the Sion-Panvel highway last week.
With agency inputs