Video: Part of SoBo building collapses after fire, 2 firefighters injured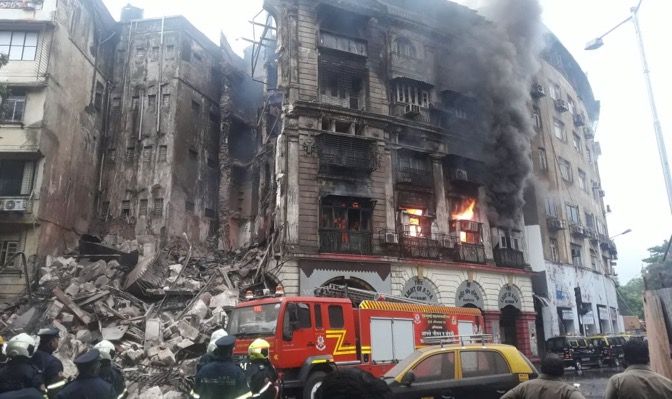 A major fire broke out in an old building in South Mumbai's Fort area early morning on Saturday and a part of it collapsed, injuring two fire brigade personnel.
The fire brigade personnel were injured when a portion of the building, called Kothari building (also known as the Light Of Asia), collapsed during the fire-fighting operation.
The fire in the ground plus five-storey building, which was unoccupied for the past nearly five years, started at around 4 am, the official from the fire department said.
The structure in the Fort area, a major business district, is old and its southern part collapsed when fire brigade personnel were putting out the blaze.
A major tragedy was averted as most firemen had moved to a safe distance before the portion collapsed. However, two firemen on a ladder sustained minor injuries in the incident and were admitted to a hospital.
Fire department officials confirmed no one was trapped inside the building.
Sixteen fire engines were deployed to douse the flames, he said, adding the cause of the blaze was not immediately known. In addition, one ambulance, three JCB machines, and one Emergency Medical Service vehicle were also pressed into service.
"Two firefighters had minor injuries, rest everybody is safe. We deployed 16 fire engines, 11 tankers and 150 fire officers. The situation is under control," fire officer Prabhat Rahangdale told media here.
The blaze, which is believed to have started on the second floor of the building, was brought under control after three hours of firefighting.
According to deputy spokesperson of BMC, Tanaji Kamble, the building is a MHADA cessed structure which was declared in C-1 category (extremely dilapidated condition) and was vacated a four years ago.
As of publishing this report, it is not known why the building was not demolished till now.
Meanwhile, civic officials deployed vehicles and labourers to shift the debris to another area to avoid blocking the busy CST road.
Video of fire at Kothari Building: