Video: Traffic cop, senior citizen exchange blows over two-wheeler towing in Ulhasnagar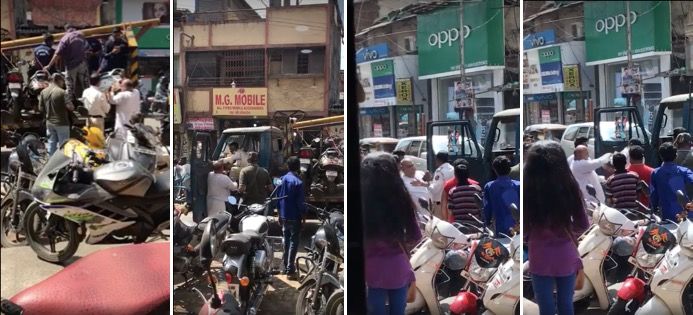 In a shocking incident, a traffic constable slapped a 65-year-old, who slapped him back, during an altercation over a two-wheeler's towing in Ulhasnagar on Sunday afternoon. The incident was caught on camera by a bystander.
The incident:
In the video, Jawahar Vasumal Lulla can been seen trying to forcefully remove his two-wheeler from the towing vehicle after it has been loaded by the towing staff.
While the staff holds on to the Honda Activa, traffic constable Baliram Patil approaches the front of the van to leave. But Lulla confronts him and asks him to release his vehicle, which leads to an argument.
When Patil sits in the vehicle without paying any heed to the request, the Ulhasnagar-resident positions himself between the van's door to stop it from closing. When the constable tries to push him away, the senior citizen holds his collar.
The constable then gets down from the vehicle and slaps Lulla, who retaliates by slapping him back. In a matter of seconds, the towing staff gather around the two-wheeler owner and start assaulting him. Eventually, locals intervene and get them to stop.
Lulla was subsequently detained by police for questioning.
Police speak:
"Lulla had parked in a no-parking zone near sector 17, Ulhasnagar. Since his Activa had already been towed by the time he arrived, the constable told him that it can only be let off if he pays the fine. But he did not budge," an official told Local Press Co.
"Since Lulla tried to stop the constable physically, he got down and slapped him. The owner then slapped the constable back," he added.
Meanwhile, an inquiry into the matter has been launched and a non-cognizable complaint, for stopping a public servant from discharging his duty, has been registered against Lulla at the Central police station.
Ankit Goyal, Deputy Commissioner of Police (Zone 4) has also sought legal action against the culprit.
Locals angry over mistreatment:
After a video of the incident was uploaded to social media, many locals came forward to demand action against the constable for hitting a senior citizen.
"Even if a person parks in a no-parking zone, it does not give a police officer the right to slap him. The constable could have handled the situation better considering the owner was elderly and without resorting to violence," an eye-witness told Local Press Co.
Lulla, according to reports, complained of high blood pressure and had to be shifted to Central Hospital in Ulhasnagar. He was discharged today morning.
Some citizens also pointed out that the constable did not adhere to the guidelines laid out by authorities, who had earlier instructed officials to release the vehicle if its owner arrived while it was in the process of getting towed.
Guidelines:
Back in November, Joint Commissioner (Traffic) Amitesh Kumar had laid a number of guidelines for towing of vehicles in Mumbai in a bid to reduce friction between motorists and cops.
According to the guidelines, if the vehicle's owner arrives while it is in the process of being towed, a fine without the towing charge should be recovered via e-challan and it should be let off.
"We have brought in more clarity in the existing rules, particularly on when a vehicle can be towed and when it should not be towed as well as the collection of fees. We have also made it clear to our staff as well as towing agencies that they should tackle the situation tactfully and politely, " Kumar had said.
Past Incidents:
Video: Youth arrested for assaulting, threatening traffic cop who tried to tow his bike in Thane
Malad Towing: New video shows woman deliberately sat in car and ignored cops' pleas, locals corroborate
Video: Elderly man climbs atop towing van in Mulund, flees with vehicle without paying penalty