Visit Chowky, Please: Cops to netizen whose auto was hit repeatedly by car with fake number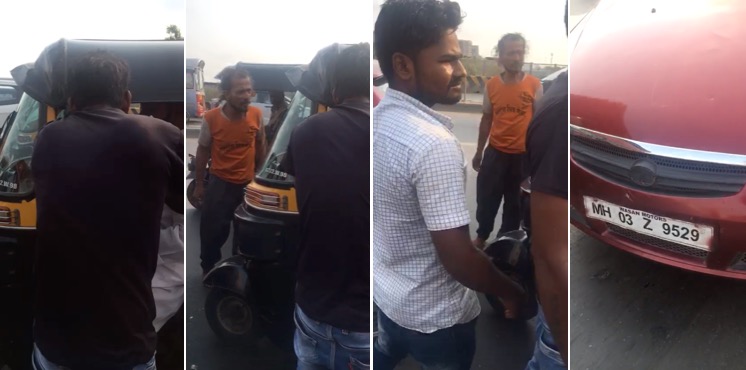 An errant motorist, who repeatedly rammed into an auto for not giving way while driving a car with a fake registration number, could potentially escape without any consequences thanks to Mumbai police's lack of empathy and lackadaisical approach.
The Incident
Eshica, a city-based HR professional, was on her way home with her husband Akshay on Monday evening when she encountered the motorist. The couple had taken an Uber auto for their journey.
Around 5:30 pm, while travelling on the Kurla Bridge on Santacruz–Chembur Link Road (SCLR), the driver of a maroon Tata Indica tried to overtake their auto.
"The car's driver kept honking continuously at us. Eventually, they overtook the auto and came parallel to us, following which a verbal spat broke out between the auto driver and the car's 3-4 occupants," Eshica told Local Press Co.
The altercation took a shocking turn when the car's driver hit the auto from the left side while it was in motion. To the horror of everyone in the auto, he repeated the action another 5-6 times.
Fearing that the swaying auto could topple over or get hit by a trailing car any minute, the rickshaw driver brought it to a halt.
"After both vehicles stopped, I tried to reason with the car's occupants. But they ignored me and got into a scuffle with the auto driver instead. They dispersed a few minutes later, after which the distressed auto driver dropped us home," she added.
Fortunately, Eshica managed to grab a picture of the car's number plate. After reaching home, she shared her ordeal on Twitter and tagged Mumbai police's official handle for a resolution.
"This car kept hitting the rickshaw we were in and also hurling abuses for not allowing him to overtake. At one point we thought we were going to lose our life. The rickshaw was hit by the car close to 6 times on the Kurla bridge (SCLR) @MumbaiPolice @mtptraffic," she wrote.
This car kept hitting the rickshaw we were in and the members kept hurling abuses for not allowing them to overtake. At one point we thought we were going to lose our life. The rickshaw was hit by the car close to 6 times on the Kurla bridge (SCLR) @MumbaiPolice @mtptraffic pic.twitter.com/YkLKSL4bhM

— Eshica (@EshicaA) June 10, 2019
Mumbai Police's Response
Mumbai police, to their credit, were quick to acknowledge the tweet and reach out to Eshica. They sought further details about the incident, which were promptly shared on a call.
Around the same time, several netizens tried to trace the owner of the vehicle. However, none of the state transport portals had any record of the vehicle's registration number, prompting speculation that the driver was using a fake number plate.
Surprisingly, unlike several other cases where cops have taken suo-moto action against errant motorists, they asked Eshica to visit the police station and file an official complaint in the case.
Needless to say, using a fake registration number or driving an unregistered vehicle on top of life-threatening road rage, would qualify as a gross violation of traffic rules. But, the Mumbai police's manner of handling seemed inept at best.
"Hi All. This is to keep you posted that Mumbai police called & asked me to file a complaint at the police station. Unfortunately, due to a personal commitment, I'm unable to do so. The system has failed me. @MumbaiPolice Trying to share the autowalla's no. It was a @Uber auto," Eshica later wrote.
Eshica also reached out to Uber to get the driver's number and ascertain if it would be possible for them to register a complaint in the matter. However, her husband missed a call from their helpline and ended up with a refund of the trip instead.
Meanwhile, it's worth noting that the car with an invalid registration number was spotted minutes away from CST Road, which houses several scrapyards. In the past, there have been cases were stolen cars have been dismantled and sold for parts there.
See here! pic.twitter.com/2DUz63PUKy

— Vedant Kantak (@Vedantk_raw) June 10, 2019

Backlash
The seriousness of the violation and the police's lack of action drew sharp criticism from Twitterati.
"This is crazy! Hitting another vehicle so many times can't be just reckless driving, this is deliberate," wrote Varun Arora.
Another user sought strict action against the culprits for the safety of the general public.
"This is so ridiculous, need urgent action by @MumbaiPolice on this.. the kurla bandra area is getting dangerous inspite of having the Mumbai"s largest commercial space and highest number of offices.. pls ensure safety of public," wrote Sreeja Nair.
Several others slammed the cops for their failure to act.
"@MumbaiPolice why don't you check the cameras (if they work) take that as a proof? We're doing more than our responsibility as citizens in helping you. This is ideally your duty. Not ours. Moreover you are troubling the young girl to come to police station and risk her life???," wrote one user.
Another user, Nitin Singh, accused the cops of 'double-standards' while addressing citizen's concerns.
"@MumbaiPolice @CPMumbaiPolice @Dev_Fadnavis @narendramodi if this incident had happened with any celebrity your team would had been prompt in action. As well as one of your stooges would had visited the celebrity for the same. And those culprits would had been behind the bars," Nitin wrote.
When asked about the need for a written complaint, a senior traffic official – on the condition of anonymity – told Local Press Co that certain cases require written complaints, without delving into any specifics.
Eshica, meanwhile, is mulling over visiting Tilak Nagar police station after work to file a complaint.
---
Also Read: Mumbai police fines helmetless cop after netizen quips about 'different rules'
---