Worli's BDD chawl to burn Nirav Modi's effigy for Holika Dahan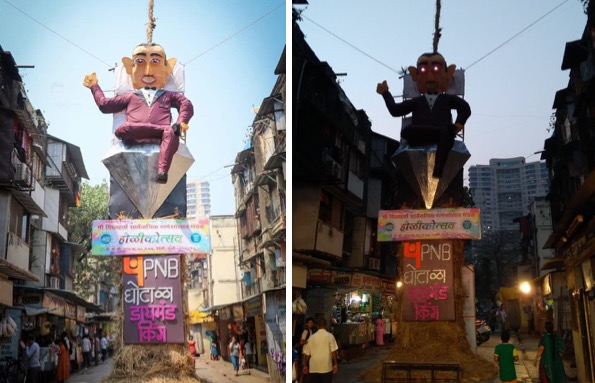 On the occasion of Holi, residents of Bombay Development Directorate (BDD) chawl in Worli will be burning an effigy of billionaire Nirav Modi, the alleged mastermind of a near $2 billion Punjab National Bank (PNB) fraud case.
On the day before Holi, people burn wood to fend off the evil and welcome goodness by playing with colours the next day.
According to locals, the effigy is a reflection of rampant corruption prevalent in the system that has allowed people like Nirav Modi, and many others before him, to defraud banks of thousands of crores.
The residents of Worli's BDD chawl number 76/77 were earlier planning to erect an effigy to highlight the issue of sexual harassment. However, the PNB scam news broke out before work begun, which prompted them to take up the scam issue instead.
Around 20 youngsters, all members of Members of the Vighnaharta Sarvajanik Ganeshotsav Mandal, worked on the near 60 feet tall effigy for a fortnight. The residents will burn the effigy during the Holika Dahan ceremony later today.
"Our society always comes up with new themes each year based on the happenings in that particular year. This year, Nirav Modi has been making news for all the wrong reasons. At a time when people like us are working so honestly, those like Modi are looting the country in all wrong ways. We want to symbolically put an end to such tendencies," Pratik Kale, secretary of the society told DNA.
The effigy depicts Nirav Modi sitting on a diamond-shaped chair, with the words 'PNB ghotala (scam) diamond king' inscribed below.
The residents, considering the environmental factor, have made the giant structure by using less wood and more of dry grass. The have also claimed that it is the highest Holi replica in India this year.
PNB fraud case update:
In the latest development, the diamantaire rejected CBI's summons by refusing to return to the country and taking part in the investigation.
CBI had emailed the summons to Modi last month and asked him to appear for an interrogation. Nirav responded to the email saying, "I have business to run here. Won't be able to join."
The agency is now planning to use the extradition route to bring him to India. It may also approach Interpol to issue a red corner notice against Nirav Modi and co-accused Mehul Choksi.
The alleged fraud perpetrated by Nirav Modi and Mehul Choksi was pegged at $2 billion after PNB, in an earlier filing to stock exchanges, said the quantum of reported unauthorised transactions can increase by $204.25 million.