Air India files complaint against Shiv Sena MP who hit staffer 25 times with slipper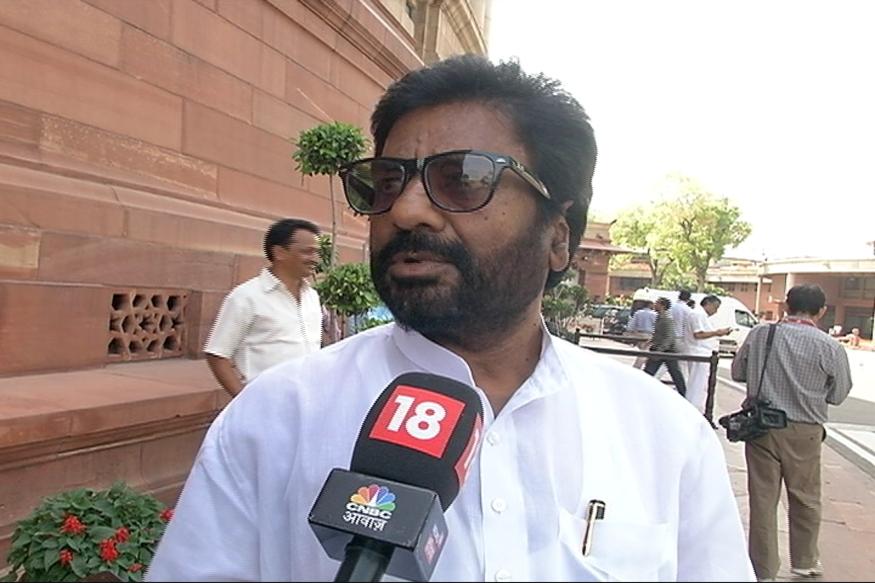 Air India on Thursday filed a police complaint against Shiv Sena MP Ravindra Gaikwad, who assaulted one of their employees and hit him with his slippers at least 25 times at IGI airport in Delhi.
The incident took place when flight AI-852 from Pune landed at Delhi airport around 10.30 am today.
According to an Air India spokesperson its duty manager at Delhi airport was hit with slippers several times by Gaikwad after he complained that he had to travel economy – on an all economy flight – even though he had a business class ticket.
Air India lodged a complaint with the police against the Shiv Sena MP for "assaulting" its duty manager, Shivkumar, at Delhi airport.
The 60-year-old staffer has alleged that the MP abused him, ripped off the buttons of his sweater, broke his spectacles, beat him with sandals and humiliated him in front of the crew.
The spokesperson further stated that the airline has filed another complaint with the police against Gaikwad for allegedly delaying its flight by over 40 minutes by not vacating the aircraft for cleaning.
Reacting to the incident, Civil Aviation Minister Ashok Gajapathi Raju condemned the incident saying that that such physical assaults will not be "encouraged".
According to the airline, the MP from Osmanabad had an open ticket in business class with Air India which allows a passenger to take a flight on any date.
But Gaikwad insisted on taking the 7:35 am AI-852, which is an all-economy flight. After the flight landed in Delhi, he refused to disembark, sparking an argument between Air India staff and the politician.
Meanwhile, Air India has begun contacting passengers on the flight as some of them may have videoed the incident or clicked pictures during the fracas between Gaikwad and the airline officials.
The national carrier has also reportedly decided to prepare a "no-fly" list of unruly passengers.
On his part, the MP later acknowledged that he assaulted the staffer, but also remained defiant over the incident and instead sought an apology from the airline's chairman and managing director.
He also told television news channels that he asked the airline staffer to 'lower his voice'. Later, in an interview to ANI, he bragged to reporters about hitting the employee "25 times with his sandal".
WATCH: Shiv Sena MP Ravindra Gaikwad admits that he beat an Air India staff member with slippers,remains defiant pic.twitter.com/1ws5nYptkn

— ANI (@ANI_news) March 23, 2017
Sena mum on attack:
After the incident came to light, a Shiv Sena spokesperson said the party would not condone the action of its MP, while urging everyone involved to understand what made him lose his temper.
"Shiv Sena does not subscribe to any such reaction by any of our party members," Sena spokesperson Manisha Kayande said in response to Gaikwad assaulting the AI staffer.
"Gaikwad is known as 'Ravi Sir' and is very popular in his constituency. We really should know what made him lose his temper. He is not a person who would suddenly jump into such a thing," Kayande said.
However, Arvind Sawant, a Sena leader and MP from Mumbai, defended Gaikwad and described the assault as a "reaction to rude and insulting behaviour of Air India officials".
Tainted past:
The 57-year-old Lok Sabha member, who has been a member of the Joint Committee on Security in Parliament House Complex since April 2015, is no stranger to controversies.
Back in 2014, he made headlines for allegedly trying to force feed a Muslim caterer during the fasting month of Ramadan over the quality of chapatis served at the Maharashtra Sadan in Delhi.
He also has various criminal charges against him which include voluntarily causing hurt to deter public servants from duty, criminal intimidation and rioting among others.
According to My Neta, an independant portal listing criminal and financial information of candidates, Gaikwad faces over ten charges ranging from culpable homicide to criminal intimidation.